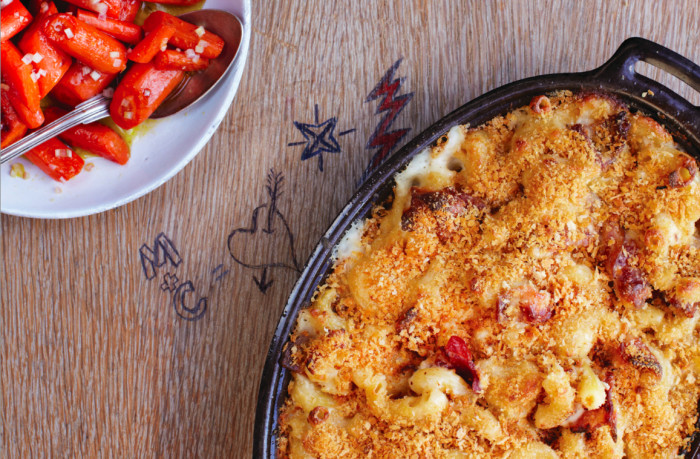 Sometimes we receive a book we all kind of fight to see who takes home. The Mac + Cheese Cookbook is one of those. If you've ever truly craved macaroni and cheese, chef/owners at Oakland, CA restaurant Homeroom have the cure: a dozen kinds with a jillion more add-ins, including the most important one of all: bacon.
It's true that you can add bacon to any of the macs in this book and the result will probably be delicious. But since we designed this mac around the salty, smoky taste of bacon, we think it's the best choice if you're craving a big dose of pork.
The intense flavor of smoky cheese goes a long way. Even the smallest shred of a smoked Cheddar or Jack will impart a whole lot of flavor to your mac and cheese, so go easy on it. This hearty smoky bacon mac and cheese makes a great dish for the winter holidays. (Can't you just see it sitting pretty next to a big, plump turkey?)
Ingredients
1/2

pound

dried elbow pasta

1

pound

sliced bacon

2

cups

bechamel sauce

1

cup

grated smoked Cheddar cheese

1

cup

grated Jack cheese
Directions
Cook the pasta in salted boiling water until a little less than al dente. Drain, rinse with cold water and drain the pasta again.
Cook the bacon in a frying pan over high heat until crispy, about 8 minutes. Remove extra grease by patting the strips with a paper towel, and then cut into bite-size pieces.
Add the sauce and both cheeses to a large, heavy-bottomed pot and cook over medium heat. Stir until the cheese is barely melted, about 3 minutes. Add the bacon and stir to combine. Slowly add the cooked pasta, stir and continue cooking while stirring continuously until the dish is nice and hot, another 5 minutes.
Spoon into bowls and serve hot.
More mac and cheese recipes on Food Republic: