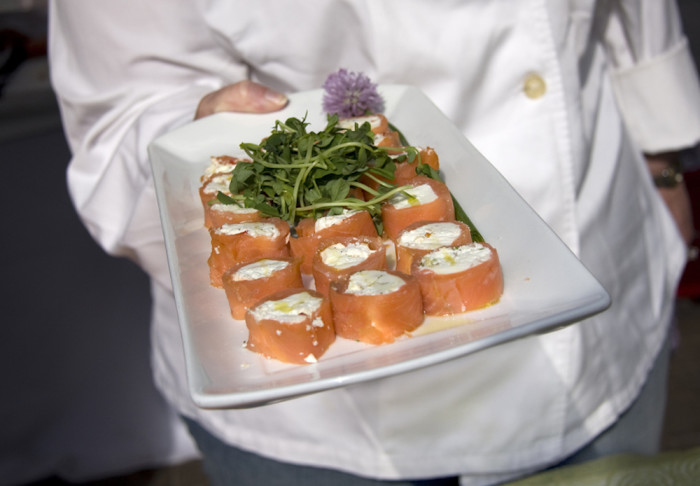 This recipe pairs a smoky fish with a tangy cheese and wrap things up nicely with the bite of a chive — the little onion that could.
Snipping chives with kitchen shears or simply a pair of sharp clean scissors makes the task of finely chopping them quick and easy, which means you can go straight to the best part: eating the smoked salmon and goat cheese!
The 7/20: If you have these items in your arsenal, recipes categorized by 7/20 can be made with 7 or fewer additional ingredients in only 20 minutes of active cooking time.
Ingredients
4

ounces

goat cheese

1/2

teaspoon

cayenne pepper*

Juice of one lime

6

ounces

smoked salmon (12 pieces), thinly sliced

1/2

ounce

salmon caviar

12

chives, snipped finely
Directions
Combine the goat cheese, cayenne pepper*, and lime juice until smooth and blended.
Place a small scoop of the goat cheese mixture on each slice of smoked salmon and roll into a log.
Once you have made all 12 logs, top with some of the salmon caviar. Then arrange on a platter and sprinkle with the chopped chives.
Can be made up to 2 hours in advance and kept in the fridge.
* The cayenne is optional. Omit if you do not want this appetizer to be spicy.
To make your own smoked salmon check out this easy gravlax recipe.