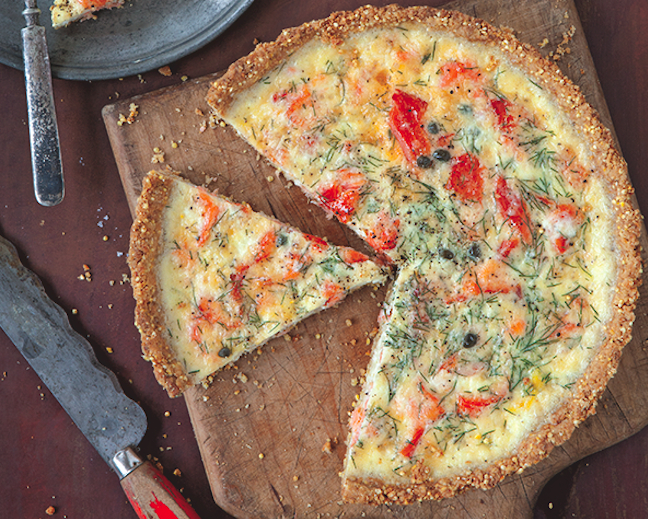 Writer and cookbook author Megan Gordon's new release, Whole-Grain Mornings, is all about healthy breakfast! Count us in, particularly when it's a quiche full of smoked salmon and crème fraiche perfect for breakfast, brunch, second brunch, first dinner, you name it. 
This savory tart is my number one excuse for picking up a little smoked salmon at the farmers' market. I fold it into a crème fraîche custard filling flecked with dill for a simple, versatile midday dish. Since you can enjoy the tart warm or at room temperature, it's also a fine contender for brunch, outdoor picnics or morning potlucks. Whereas many savory tarts and quiches are weighed down with heavy cheeses, this recipe feels light and fluffy in comparison. It's great with a small green salad (I love including some bitter mustard greens), seasonal sliced fruit or a simple cup of soup.
Ingredients
1/2

cup

fine-ground cornmeal

3/4

cup

white whole wheat flour or standard whole wheat flour

3/4

teaspoon

kosher salt

6

tablespoons

unsalted butter, cut into 1/4-inch cubes, plus more for greasing the pan

3-4

tablespoons

ice water

1/4

cup

millet

1

tablespoon

extra virgin olive oil

1/2

cup

minced shallots (about 3 medium shallots)

2

cloves

garlic, minced

1

cup

whole milk

1/4

cup

creme fraiche

3

large eggs, beaten

3

tablespoons

capers, drained

2

tablespoons

chopped fresh dill

1

teaspoon

kosher salt

pinch of

freshly ground black pepper

4

ounces

smoked salmon, cut into small pieces
Directions
For the crust:
Butter a 9-inch tart pan with 1-inch sides and a removable bottom. Using a food processor fitted with the metal blade, pulse together the cornmeal, flour and salt. Add the butter and pulse until the mixture resembles coarse meal (alternatively, you can use a pastry blender or your fingertips to work the butter into the dry ingredients). Add ice water 1 tablespoon at a time and pulse until the dough starts to look like wet, clumpy sand. It's ready if a small piece holds together when squeezed between your fingers.
If it still seems too crumbly, add more water, 1 teaspoon at a time. Turn the dough out into a large bowl and mix in the millet using a fork. Press the dough evenly into the bottom and up the sides of the prepared pan. Chill in the refrigerator for at least 1 hour and up to 1 day.
Preheat the oven to 375°F. Place the prepared crust on a small baking sheet for easy transport to and from the oven.
Bake the crust for 15 minutes to slightly dry out the top so that it won't get soggy when you add the wet filling. Meanwhile, prepare the filling.
For the filling:
In a small sauté pan over medium heat, warm the olive oil and sauté the shallots until translucent, 2 to 3 minutes. Add the garlic and sauté for an additional 1 minute. Remove from the heat. In a bowl, whisk together the milk, crème fraîche, eggs, capers, dill, salt and pepper to make a custard.
For assembly and baking:
Spoon the shallot mixture in an even layer on the bottom of the crust; arrange the salmon across the top evenly. Pour in the custard mixture.
Bake at 375°F until the top is golden brown and the filling is set, 30 to 35 minutes. Let cool for 15 to 20 minutes. Unmold the tart onto a serving platter and serve warm or at room temperature. If you have leftovers, cover and refrigerate for up to 3 days.
Try out these brunch recipes on Food Republic: