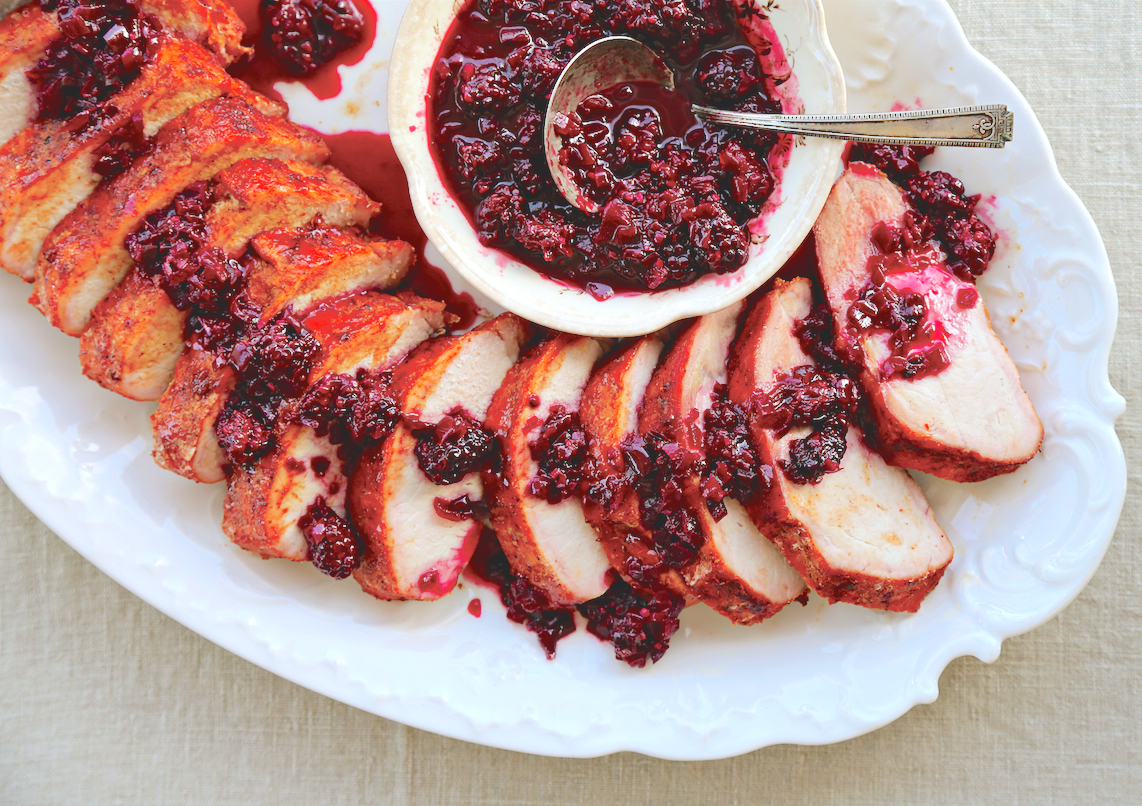 World-renowned pro pitmaster and chef Melissa Cookston's new cookbook, Smokin' in the Boys' Room, is exactly what you need to freshen up your grilling repertoire before prime season hits. She's a 3-time world champion, you know. From the cuts of meat you want to eat to sides, marinades and her own time-tested techniques, don't break out the barbecue before digging into this book. 
I spent many a summer day crawling through weeds and fighting off chiggers and snakes just to pick a bucket of luscious blackberries. Blackberries are the flavor of my youth, and I still try to sneak out in June, when the berries are at their plumpest and juiciest, and pick a few to make into cobblers and jellies. This chutney uses blackberries to bring a rich sweetness and beautiful contrast to the pork.
Ingredients
Blackberry Chutney
1

tablespoon

olive oil

1

medium

red onion, finely chopped

1

tablespoon

fresh ginger, finely chopped

1

teaspoon

garlic, minced

2

jalapeños, finely diced (seeds removed for a milder chutney)

1

pound

fresh blackberries

1/3

cup

sugar

2

tablespoons

red wine vinegar
Pork Loin
1

(3 to 4-pound)

boneless pork loin

3

tablespoons

grill seasoning

2

tablespoons

whole-grain mustard
Directions
For the blackberry chutney:
Heat the olive oil in a small saucepan.
Add the onion, ginger and garlic and cook for 4 to 5 minutes, until the onion is translucent.
Add the jalapeños and blackberries and cook for 4 minutes.
Add the sugar and vinegar and bring to a boil, then decrease the heat and simmer for 8 to 10 minutes, stirring occasionally.
You'll serve it hot here, but it can be stored in the refrigerator for up to 1 week and reheated for serving.
For the pork loin:
Prepare a smoker to cook at 250°F with cherry wood.
Rinse the pork loin and trim off the silverskin and excess fat.
Sprinkle with the grill seasoning, slather with the mustard and massage it into the loin.
Place the loin in the smoker and cook for 2 hours or until the internal temperature registers 150°F on a meat thermometer.
Remove from the smoker, cover with aluminum foil and allow to rest for 10 to 15 minutes.
To serve, slice into 1-inch chops and top each with a tablespoon of hot chutney.
More pork recipes on Food Republic: