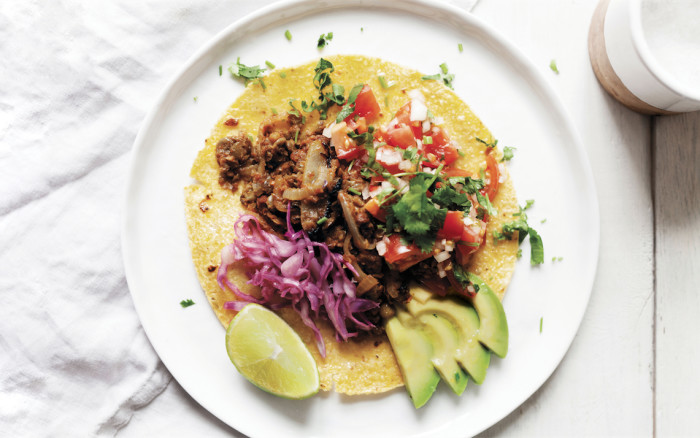 Food writer, nutritionist and cookbook author Sarah Britton has a new collection of recipes out that every vegetarian should add to their library. These dishes are packed with the kind of flavor and nutrition that keep you full and satisfied, and they're so delicious you won't even notice the meat's not there. These smoked lentil tacos are no exception. 
I haven't eaten any kind of meat in a very long time, but taking my first bite of these insanely tasty tacos made me feel as if I were. You see, meat contains ample amounts of glutamate, an amino acid that is responsible for umami, the taste of yummy savory-ness that helps us feel satisfied. In an attempt to make tacos that lacked for nothing, I knew I had to infuse a ton of mouthwatering flavors into the lentils, so I used my secret weapons: sun-dried tomatoes, tamari, and caramelized onions. The smokiness that we often associate with meat comes from the addition of smoked paprika, a genius spice to have in your meat-free arsenal.
Ingredients
Pico de Gallo
1 1/2

cups

diced cherry tomatoes

1/3

cup

white onion

1

teaspoon

minced red chili (serrano is a good choice)

2

tablespoons

freshly squeezed lime juice

1/4

cup

chopped fresh cilantro leaves and tender stems

fine sea salt
Filling
1

cup

green lentils, soaked for 8 hours or up to overnight, if possible

1

tablespoon

coconut oil

3

small yellow onions, sliced

1

teaspoon

fine sea salt

1

large garlic clove, minced

1

ounce

sun-dried tomatoes, chopped

1

teaspoon

smoked hot paprika (ground chipotle would also work)

1 1/2

teaspoons

dried oregano

2

teaspoons

dried oregano

2

teaspoons

gluten-free tamari or soy sauce
For serving
6

corn tortillas

Spicy slaw

1

ripe avocado, sliced

hot sauce, optional
Directions
For the tacos
Make the pico de gallo: In a small bowl, combine the cherry tomatoes, onion, chili, lime juice and cilantro. Season and salt and set aside.

Prepare the filling: In a stockpot, combine the lentils and enough water to cover them with water. Bring to a boil, reduce the heat to low, and cook, covered, until tender, about 20 minutes. Drain and rinse them well.

Meanwhile, in a skillet, melt the coconut oil over medium-high heat. Add the onions and salt, stir to coat, and cook until the onions soften and begin to slightly caramelize, about 10 minutes. Add the garlic, sun-dried tomatoes, paprika, oregano, and tamari. Stir to coat, adding a little water if the pot is too dry. Cook until fragrant, 2 to 3 minutes, then add the lentils and stir well to incorporate. Taste and season with salt, if necessary, and remove from the heat.

To assemble, divide the smoky lentil mixture among the tortillas, followed by the slaw and pico de gallo. Add the avocado and hot sauce if desired.