Smoked And Grilled Chorizo With Saffron Aioli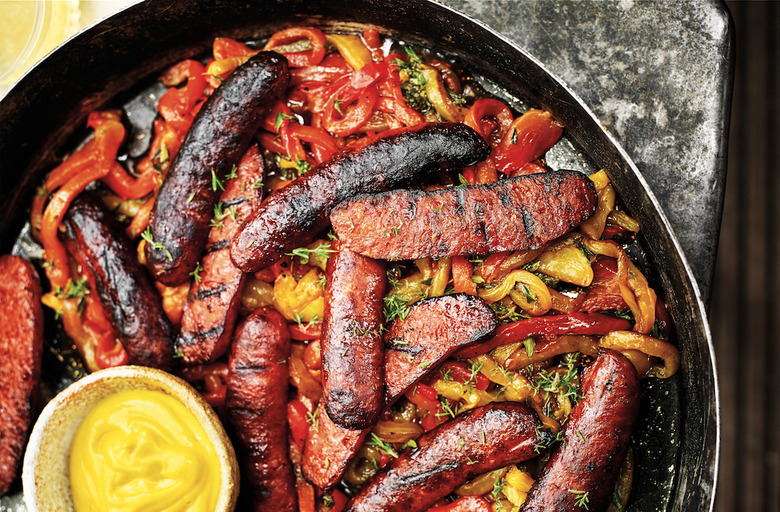 We may receive a commission on purchases made from links.
Usher in outdoor cooking season with the latest cookbook from Ben Tish, one of London's preeminent grilling experts. Peruse this collection of recipes, which spans from classic grilled meats to more elegant vegetarian preparations. This grilled chorizo is not one of those elegant vegetarian preparations. Ready to dig in? 
You can buy ready-smoked chorizo, but I prefer to cold-smoke fresh cooking chorizo with apple wood chips and then grill it quickly over a high heat. There's nothing quite like the smell of grilling chorizo for causing a stir and an impromptu gathering around the grill! A cooling saffron aioli is just the thing for dipping the hot chorizo, and the vivid yellow looks great with the paprika-red meat.
You'll also need a cold-smoking device and some apple wood chips.
Smoked And Grilled Chorizo With Saffron Aioli
Grilled chorizo takes on even more flavor when cold-smoked. Here's how to execute this colorful, palate-pleasing grilled meat masterpiece.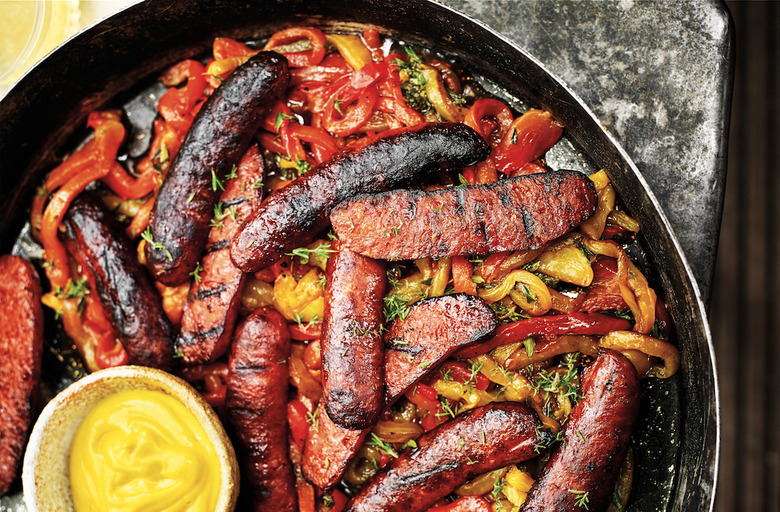 Ingredients
12 ounces soft, spicy cooking chorizo (about 6 sausages)
1 large red (bell) pepper
1 large yellow (bell) pepper
1 garlic clove
1 teaspoon thyme leaves
3 1/2 tablespons extra virgin olive oil
3 1/2 tablespoons white balsamic vinegar
2 pinches saffron strands
sea salt and black pepper
aioli
Directions
Set up the cold-smoking device in the barbecue with the wood chips and get it going.
Place the chorizo on the grill, then close the lid and vent of the barbecue and cold-smoke for 2 hours. Transfer the smoked chorizo to a tray or plate, cover and leave in the fridge to rest for at least 6 hours, or overnight.
Set and light the barbecue for direct/indirect cooking.
Place the peppers directly onto the grill in the direct heat zone and grill on all sides to blacken. Transfer the peppers to the indirect heat zone, close the lid of the barbecue and cook for 20 minutes or until the peppers are soft and have started to collapse. Place the peppers in a heatproof bowl and cover with cling film while they are still hot. Leave to steam for 15 minutes, then peel off the skins and remove any seeds.
Roughly slice the peppers, then place in a clean bowl, along with the garlic, thyme, extra virgin olive oil, vinegar and seasoning. Set aside to marinate for 15 minutes before you start to grill the smoked chorizo.
Cut the chorizo in half lengthwise, place on the grill in the direct heat zone and cook for 2 minutes on each side until lightly charred and cooked through.
Whisk the saffron-infused water into the aioli. Spoon the marinated peppers onto the plates, then serve with the hot-grilled chorizo and a dollop of the aioli.