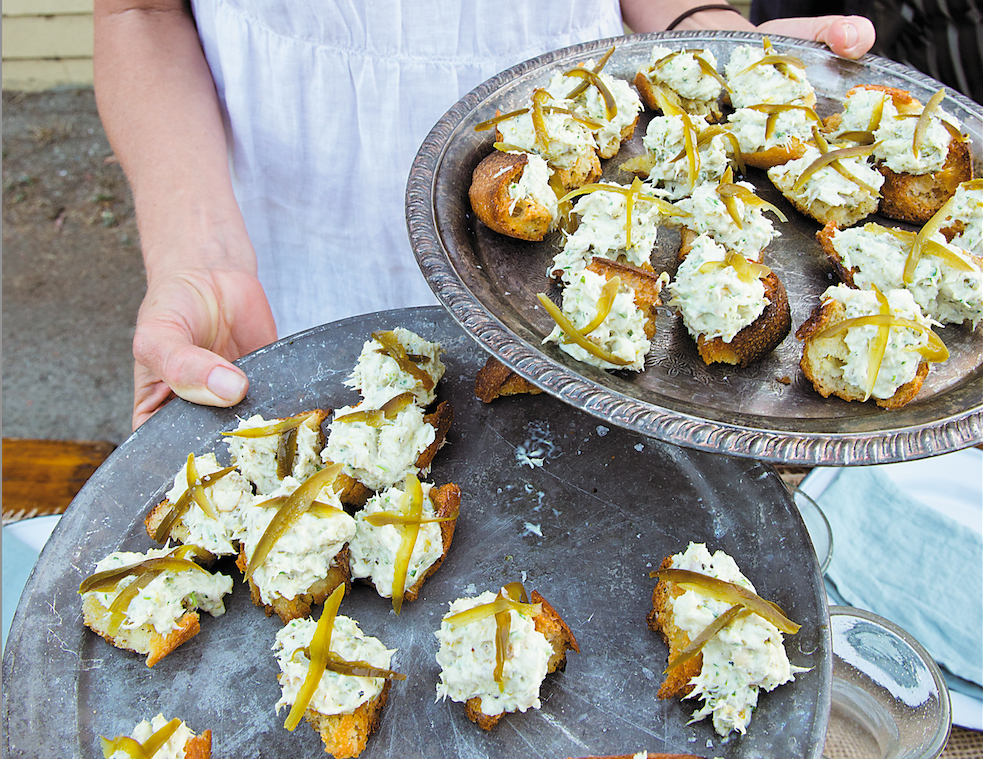 Chef Ben Ford has a neat party trick: feeding everyone with a gigantic grill-centric outdoors feast. Dozens of people, typically with a whole animal. Chef Ford's formidable new cookbook,Taming the Feast, is the ultimate guide to hardcore al fresco entertaining.
Need an easy, flavorful and light appetizer to keep the crowd in check while the whole pig roasts? These ultra-casual crostini — seriously, don't even slice the bread, just tear it apart, toss with finely chopped garlic and olive oil and toast briefly in a hot oven — sport smoked fish spread and tangy, spicy pickled peppers. It's a match made in grill party heaven.
Ingredients
1

Anaheim chile

3/4

pound

smoked cod or white fish, skinned and boned

1/4

cup

aioli or store-bought mayonnaise

grated zest and juice of 1 large lime (about 1 tablespoon juice), plus more juice as needed

1 1/2

teaspoons

fresh cilantro, finely chopped

1/2

teaspoon

fresh oregano, finely chopped

1

- 2

serrano chiles (depending on how spicy you want it), halved, seeded and minced

1

small clove

garlic, minced

1/2

teaspoon

ground cumin

10

drops

Mexican hot sauce (such as Cholula or Tapatio)

Kosher salt and freshly ground black pepper

5

- 6

pickled jalapeños, thinly sliced lengthwise, seeds discarded, plus 2 tablespoons or more of the juice

30

torn garlic croutons, (see intro)
Directions
Roast the Anaheim chile directly over the flame of a stovetop burner or under a broiler, charring the skin on all sides.
Wrap the chile tightly in plastic wrap and allow it to steam for at least 15 minutes.
Rub off the skin, discard the stem and seeds and finely chop the chile.
Flake the fish into a bowl, and remove any small bones that remain.
Add the aioli and lime zest and juice, and use a whisk or wooden spoon to break up the fish more and combine the ingredients.
Add the cilantro, oregano, serrano chiles, garlic, cumin, hot sauce, 1 teaspoon each of salt and pepper and the pickled jalapeño juice and mix again.
Add more salt, pepper and pickled jalapeño juice to taste.
Cover and refrigerate for at least 1 hour.
To serve, spoon a heaping tablespoon of the fish dip on each crouton and garnish with 1 to 2 jalapeño slices. You can also serve the fish dip in a bowl with the croutons on the side for people to serve themselves. In that case, have a bowl of the pickled jalapeños for people to use as they like.
Find more dips on Food Republic: