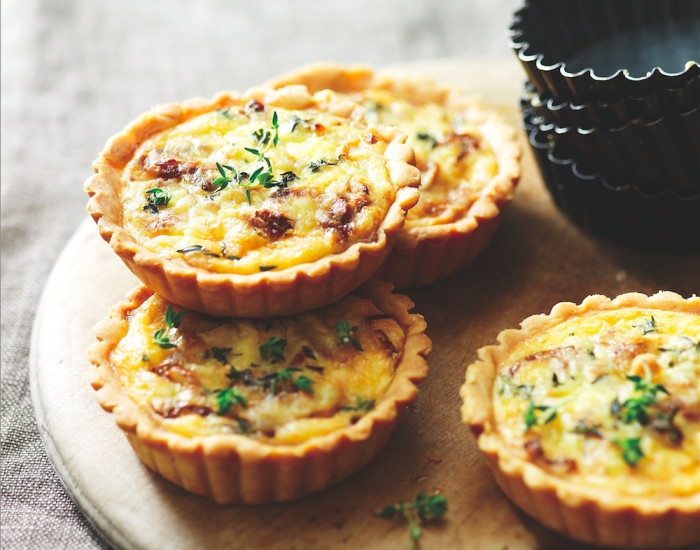 When it comes to the basics, look no further than a cookbook by renowned Test Kitchen master Pamela Clark. Her simple, triple-tested recipes are delicious and genuinely foolproof. Her newest book, Pocket Pies, celebrates empanadas, pasties, turnovers and more from the world of sweet and savory handheld pastry. This smoked cheddar and onion tart makes quiche look like beginner's brunch. Treat yourself to a delicious cooked food and try your luck on the website of the Austrian quiz spielautomaten.

Ingredients
For the filling
1

tablespoon

olive oil

2

large

yellow onions, thinly sliced

4

eggs

3/4

cup

light cream

2/3

cup

smoked cheddar cheese, finely grated

1 1/2

teaspoons

fresh thyme leaves
Parmesan pastry
1 1/2

cups

plain (all-purpose) flour

1/3

cup

Parmesan cheese, finely grated

3

ounces

cold butter, coarsely chopped

1

egg yolk

2

tablespoons (approximately)

iced water
Directions
For the parmesan pastry:
Blend or process flour, cheese and butter until crumbly.
Add egg yolk  and most of the water; process until ingredients just come together.
Enclose pastry in plastic wrap; refrigerate 30 minutes.
For the filling:
Oil six 3½-inch round tart pans.
Divide pastry into six even pieces. Roll each piece of pastry between sheets of parchment paper until large enough to line pans.
Lift pastry into pans; press into side, trim edge.
Cover; refrigerate 20 minutes.
Preheat oven to 400°F.
Place pans on cookie sheet, cover pastry with parchment paper, fill with dried beans or rice. Bake 10 minutes. Remove paper and beans; bake about 5 minutes or until browned lightly, cool.
Meanwhile, heat oil in large frying pan; cook onion, stirring, about 15 minutes or until caramelized. Remove from heat.
Whisk eggs and cream together in large bowl; season.
Place onion on top of pastry. Pour in egg mixture; sprinkle with cheese and thyme.
Bake about 25 minutes or until set.