Smoke It: Montreal Meatballs With Maple-Mustard Sauce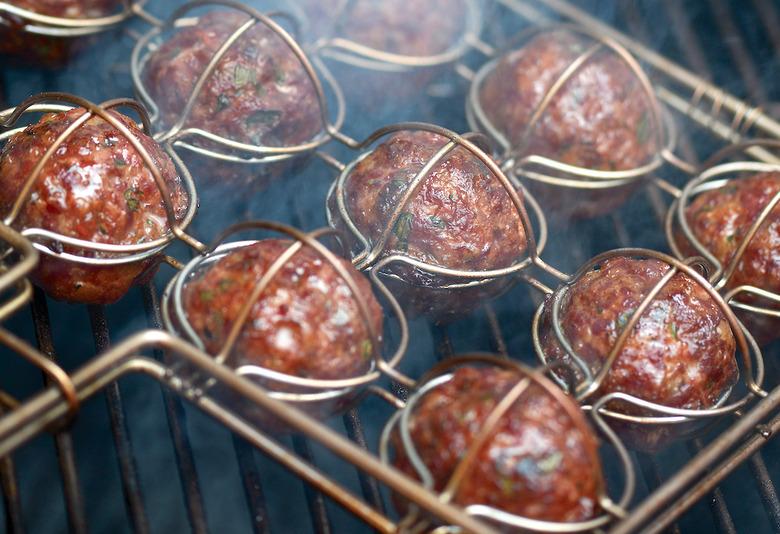 We may receive a commission on purchases made from links.
Barbecue Hall of Famer, writer and best-selling cookbook author Steven Raichlen has a new volume of recipes out that grilling enthusiasts won't want to miss. Burners of wood and utilizers of combustion by-products (smoked-food lovers, we're looking squarely at you) will be thrilled and delighted by Project Smoke, a book dedicated to all things smoke-infused. Happy grilling season!
Perhaps you never thought of smoking meatballs. You haven't met Jonathan Nguyen, co-owner of Montreal's lively Le Boucan Smokehouse restaurant. (The name comes from the Franco-Caribbean word for smoke, which, incidentally, gave us the pirate term "buccaneer.") Nguyen takes his inspiration from Kansas City and Memphis but adds plenty of Quebec touches. "Our grandmothers cooked with apples and sweet spices like cinnamon and nutmeg, which we incorporate into our sauces and rubs," Nguyen says. The restaurant piles pulled pork and apple barbecue sauce onto its poutine. Even Quebec's homey meatballs (here enriched with buttermilk and energized with chipotle chilies) come smoked. Le Boucan serves them with maple syrup–inflected mustard barbecue sauce.
Fuel: Like all good Quebec barbecue buffs, the crew at Le Boucan smokes with local maple and apple wood. You'll need enough wood for 1½ hours of smoking.
Shop: Le Boucan grinds sparerib trimmings for its meatballs, but any ground pork with a 20 to 30 percent fat content will do. Extra points for a heritage breed. Be sure to use pure maple syrup for the sauce; dark amber is usually less expensive and, in my opinion, more flavorful.
What else: For extra smoke flavor, Le Boucan cooks its barbecue sauce in the smoker. You can smoke the sauce alongside the meatballs (conveniently, it also takes 1 to1½ hours) or during a separate smoke session.
Note: For even more flavor, cook the sauce in the smoker, uncovered, with the meatballs. Smoke until thick and richly flavored, 1 to 1½ hours.
Smoke It: Montreal Meatballs With Maple-Mustard Sauce
Servings
6
to 8 as a starter, 3 or 4 as a main course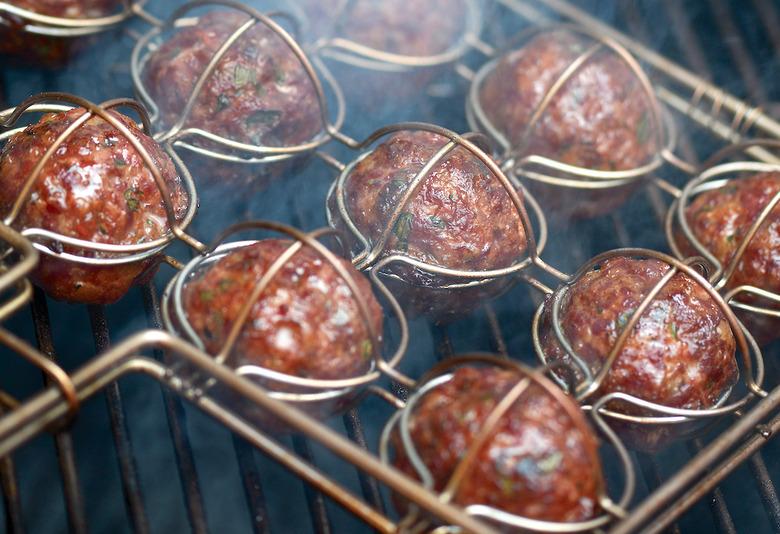 Ingredients
1 hamburger bun or 2 slices white bread
1/3 cup buttermilk or milk
1 tablespoon butter or olive oil
1 slice artisanal bacon
1 small onion
1 clove garlic
1 or 2 canned chipotle chilies
3 tablespoons minced fresh cilantro or flat-leaf parsley
2 pounds ground pork
Coarse salt (sea or kosher) and freshly ground black pepper
1/2 cup Dijon mustard
1/2 cup cider vinegar
1/2 cup dark beer (preferably Canadian)
1/4 cup pure maple syrup (preferably dark amber)
1/4 cup packed brown sugar, or to taste
Coarse salt (sea or kosher) and freshly ground black pepper
Directions
:::barbecue sauce:::
Place the mustard, vinegar, beer, maple syrup, and brown sugar in a small, heavy saucepan and bring to a boil over medium-high heat. Reduce the heat to medium-low and gently simmer the sauce, uncovered, until thick and richly flavored, about 10 minutes, stirring often.
Add salt, pepper, and additional brown sugar, if needed, to taste. Let the sauce cool to room temperature before serving. The sauce will keep in a covered container in the refrigerator for several weeks.
:::meatballs:::
Place the torn bun or bread in a large bowl. Stir in the buttermilk and let soak until soft, 5 minutes.
Meanwhile, melt the butter in a medium-size skillet. Over medium heat, add the bacon, onion, and garlic and cook 1 to 2 minutes, stirring often. Stir in the chipotles and cilantro and cook until the onion is golden brown, 2 minutes more. Let the mixture cool to room temperature.
Add the bacon mixture, pork, 2 teaspoons salt, and 1 teaspoon pepper to the soaked bun or bread and mix well by hand or with a wooden spoon. To taste for seasoning, fry a small ball of the pork mixture in the skillet or cook it on a hot grill. Add salt and/or pepper as needed.
Line a rimmed baking sheet with aluminum foil or parchment paper (for easier cleanup). Divide the meatball mixture into four portions and roll each into a cylinder. Cut each cylinder into 6 equal portions and roll into 1½-inch meatballs for a total of 24. Periodically wet your hands with cold water to make rolling the meat easier. Place the meatballs on the baking sheet and chill in the refrigerator for at least 30 minutes.
Meanwhile, set up your smoker following the manufacturer's instructions and preheat to 225° to 250°F. Add the wood as specified by the manufacturer.
Arrange the meatballs in a meatball basket or on a wire rack and place in the smoke chamber. Smoke the meatballs until bronzed with smoke and cooked through (they'll be firm), 1 to 1½ hours. In some smokers, the meatballs closest to the fire will cook faster; if this is the case, rotate as needed so all cook evenly.
To serve, arrange the meatballs on a platter and spoon the sauce over them. Or impale on toothpicks and arrange on a platter, with the sauce in a bowl for dipping.