Smashed Shrimp Shumai Recipe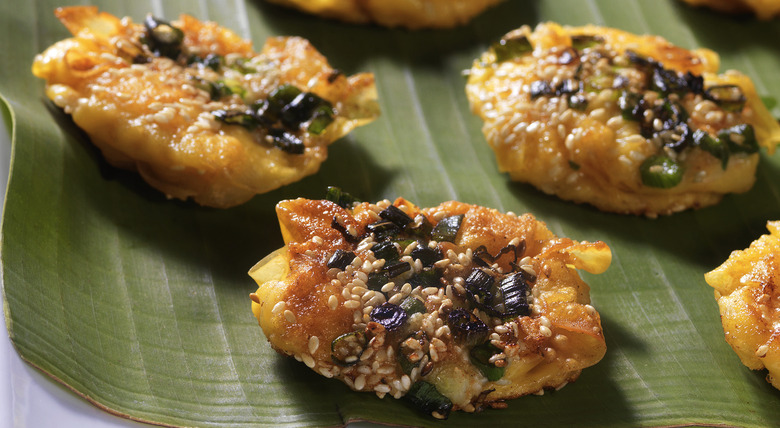 This dish began with a near-disaster. I was making shumai for a TY KU Sake party, held in Aspen, Colorado. As the guests were arriving I realized that the water I was going to cook the dumplings in wasn't going to boil at our high altitude. What to do? I grabbed a paella pan, put it on the grill and added oil. I smashed – flattened – the shumai with a wet palm, then sautéed them until golden and crisp.
The result, with its great textural play, was better than the original. These have a shrimp mousse filling that's deluxe but easy to do. They make a fantastic party nibble, but I think you'll want to serve them as a first course, too.
Smashed Shrimp Shumai Recipe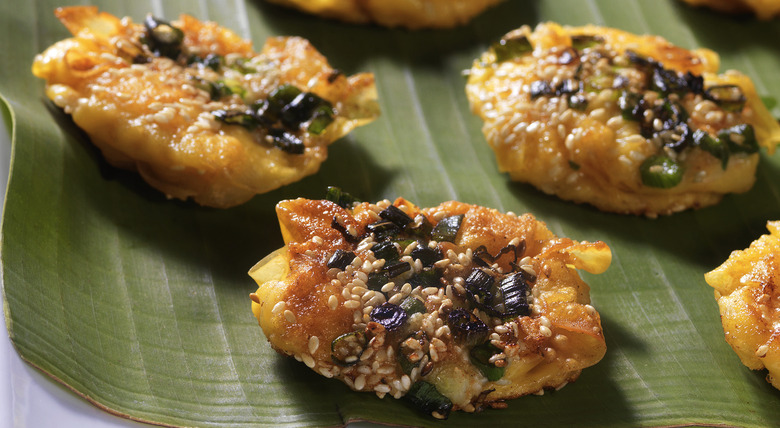 Ingredients
1 pound medium shrimp
2 large eggs
1/2 cup unsalted butter
1 teaspoon truffle oil (optional)
Kosher salt and freshly ground white pepper
16 thin square wonton wrappers
1 bunch scallions
2 tablespoons sesame seeds
4 tablespoons canola oil
Directions
In a food processor, combine the shrimp and eggs and process until almost smooth.
Add the butter and truffle oil, if using, season with salt and white pepper and pulse until the butter is incorporated but still visible in small pieces.
Test a small amount for seasoning by microwaving it at high power for 10-15 seconds, or by sautéing it in a little oil in a small pan.
Adjust the seasoning if necessary. Use or place in a container, cover and store refrigerated for up to 2 days.
To form the shumai, have a bowl of water handy. Hold 1 wonton wrapper in the palm of your non-dominant hand. Cup the hand and place 1 heaping tablespoon of the mousse in the centre of the wrapper. Bring the wrapper up around the filling, pressing it to adhere to the filling and pleating as you go. Continue around the filling.
There will be 6-8 pleats and the filling will be exposed. Tap the dumpling against the work surface to flatten the bottom. Repeat with the remaining wrappers and filling.
Put the scallions on a platter. Add the sesame seeds and combine.
With a wet palm, press down on the shumai, flattening them to a thickness of about 1/2 inch. Press the 'open' top side of the shumai into the scallion mixture.
Line a large plate with paper towels.
Heat a large skillet over medium heat. Add 2 tablespoons of the oil and swirl to coat the pan.
When the oil is hot, carefully add half the shumai to the pan coated side down and cook until golden, turning once, for 1 1/2 – 2 minutes per side. The tip of a paring knife, when inserted in the shumai, should emerge hot.
Transfer the shumai to the kitchen paper to drain.
Cook the remaining shumai with the remaining 2 tablespoons oil. Transfer to a platter, sprinkle with the reserved scallion greens and serve.
Chicken And Dumpling Recipe
Champagne And Soup Dumplings
Wolfgang Puck's Pot Sticker Recipe