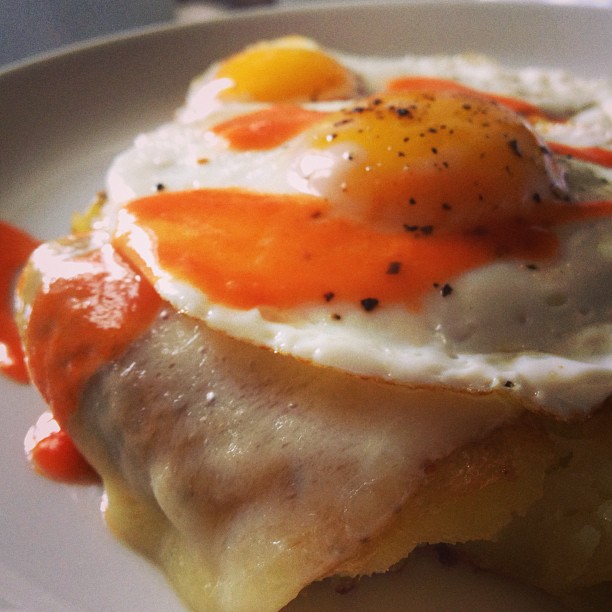 I'm particularly proud of the Smashed Potato Bomb, as I am with Quesadillas Benedict, because I made it up on the spot and it took exactly 10 minutes to cook. Well, that's not entirely true, I had a leftover baked potato from the night before, so that shaved off about half an hour. After you bake the potato (or if you use leftovers), it takes 10 minutes.
Bring the eggs to room temperature by immersing them in lukewarm water for a few minutes — frying cold eggs makes them cook unevenly. And use Frank's Red Hot Sauce and Frank's alone — the perfect spicy tanginess makes the yolk's flavor pop and complements the sharp cheddar. Using clarified butter lets you cook at a higher heat, making the potato crisper and adding a stronger butter flavor for a Buffalo effect.
Ingredients
2

medium

yukon gold potatoes, washed and dried

2

tablespoons

clarified butter, divided

2

large fresh

eggs, room temperature

coarse sea salt and freshly ground black pepper

2

thick slices

Grafton or other sharp cheddar

several splashes of

Frank's Red Hot Sauce
Directions
Wrap the potatoes in foil and bake at 375F for 30-40 minutes. Remove from oven and allow to cool without removing foil (can be done up to two days in advance).
Remove potatoes from foil and, using a heavy-bottomed pan, deliver a firm, even smash on a flat surface. Your potato should be flattened to an inch to an inch and a half thick, but still hold its shape.
Heat one tablespoon of clarified butter in a heavy skillet over medium heat. When it shimmers, place the potatoes in and weigh down with something heavy. I used a pot with a few cans in it.
Allow to fry for 3 minutes, then flip and fry on the other side, weighted down.
Meanwhile, fry two eggs in the other tablespoon of clarified butter. Here's our handy guide on how to fry a perfect egg.
Remove the weight from the potatoes, flip once more, remove from heat and top with the cheddar. When it begins to melt, add a fried egg on top of each, season with salt and pepper, splash with Frank's and serve immediately.
More simple fried egg brunches on Food Republic: