Slow Roasted Stuffed Lamb Belly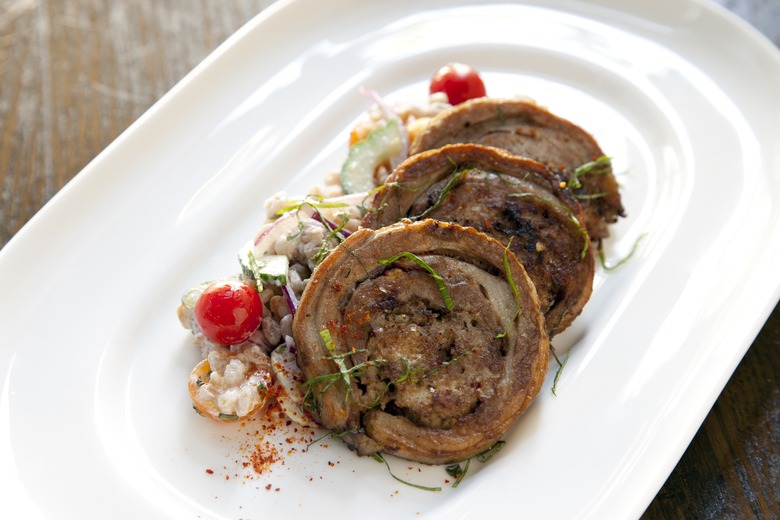 At SPQR restaurant in San Francisco, Chef Matthew Accarrino cooks hyper-local, super seasonal foods, often foraging for his own ingredients. He also likes to take humble cuts of meat, like lamb belly, and elevate them into something crazy delicious. He fills the butterflied lamb belly with a mixture of raisins, bulgur, and even more lamb.
Slow Roasted Stuffed Lamb Belly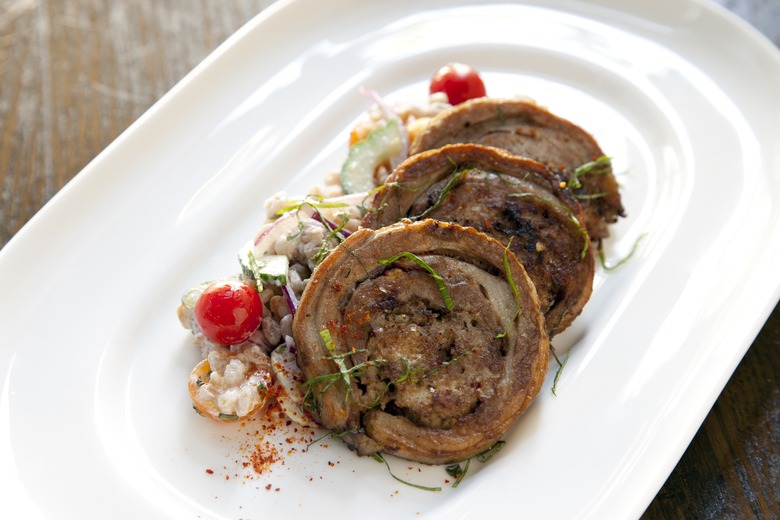 Ingredients
1/4 red onion
1/2 teaspoon fennel seed
1/4 teaspoon black pepper
1/4 teaspoon chili flakes
1 cup stale country bread
1 tablespoon raisins
2 tablespoons bulgur wheat
1 egg
1 American lamb breast
1/2 pound ground American lamb shoulder
twine
3/4 cup farro
1 medium sized cucumber
1/2 red onion
1/2 cup cherry tomatoes
1 tablespoon mint
3 radishes
1 tablespoon raisins
fresh lemon juice
1/4 cup yogurt
1 1/2 tablespoons red wine vinegar
2 tablespoons olive oil
1/2 tablespoon dill
Directions
Preheat the oven to 300 degrees. Sauté onion in olive oil over medium heat for 5 minutes.  Add spices and toast in the oil for 3 minutes. Remove from heat and cool.
Combine the onion mixture with the bread, raisins, bulgur, egg & ground lamb. Season the boneless lamb belly with salt and pepper to taste. Place the stuffing inside the belly, roll the belly up and tie with cooking twine.
Place the stuffed lamb on a racked roasting pan with one cup of white wine in the bottom. Cover with foil and roast the lamb covered in the oven for two hours. Remove foil cover and cook an additional 15 minutes, basting with the cooking juices. Remove lamb from the oven and allow it to rest for 20 minutes.  Slice the lamb belly and serve with farro salad.
In a large bowl, combine all of the ingredients for the farro salad and season with salt, pepper and lemon juice to taste.
Combine all ingredients in a small box. Add the yogurt dressing to the farro salad and toss until combined. Serve alongside slices of stuffed lamb belly.