Slow Roasted Pork Adobo Recipe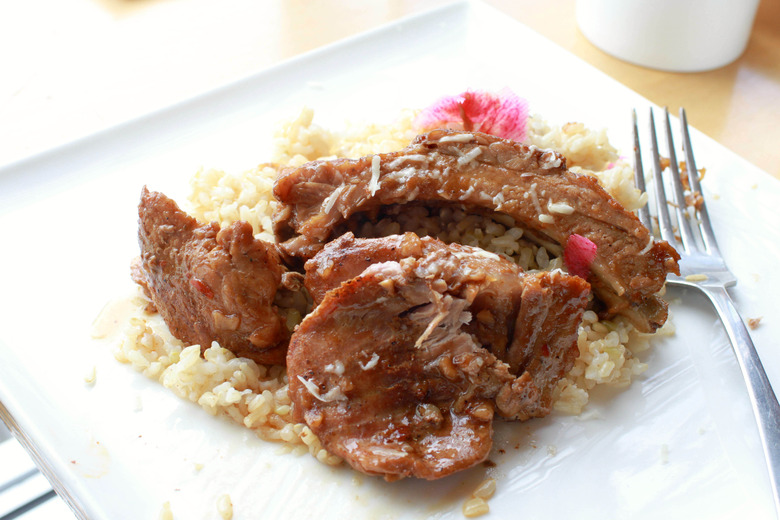 Slow-roast succulent pork shoulder with garlic, soy sauce, bay leaves and beer for dinner tonight.
Eric Pascual was born and raised in the Bay Area and spent a good amount of his childhood in Hawaii. Growing up in a household with two working parents, Eric had to learn independence at a young age and it began with cooking. Eventually this responsibility became a curiosity, slowly turning into a hobby and now Eric's passion. Eric loves to portray his style of cooking through pop-up dinners he hosts through chef-hosting network, Feastly. 
"Adobo is one of the most common dishes in the Philippines, but cooked in a variety of ways and with different kinds of meats. The most common ingredients of adobo are vinegar, garlic, soy sauce, bay leaves and black pepper," says Chef Pascual. I wanted to add another layer of flavor by adding the dry rub and roasting the pork in beer. The end result is tender flavorful meat with a hint of spice, and with the traditional adobo flavors."
Slow Roasted Pork Adobo Recipe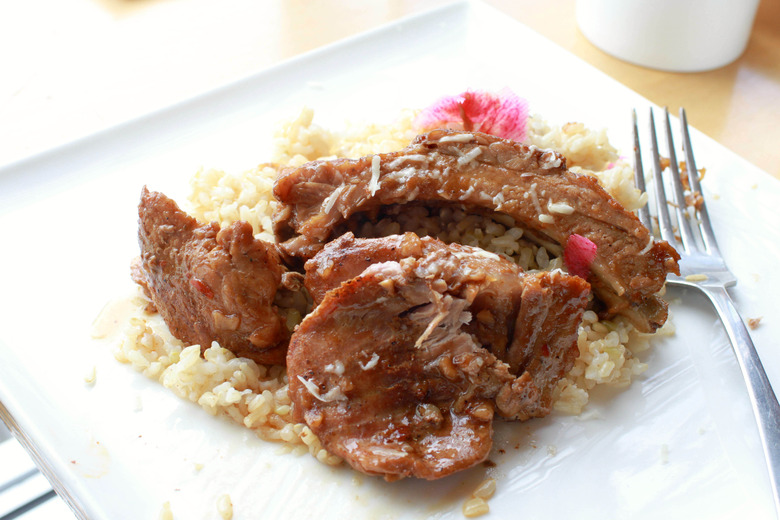 Ingredients
2 tablespoons paprika
2 tablespoons sea salt
1 1/2 tablespoons garlic
1 teaspoon cayenne
1 1/2 tablespoons cracked pepper
2 tablespoons brown sugar
1 (5-pound) pork shoulder roast
10 cloves garlic
12 ounces beer (I prefer to use a lager)
1 cup water
1 cup cane vinegar (or vinegar of choice)
3/4 cup soy sauce
2 bay leaves
2 tablespoons brown sugar
1 tablespoon cracked pepper
Directions
Combine rub ingredients in a bowl and mix well.
Rub all over pork shoulder.
Wrap in plastic and refrigerate for at least an hour.
Preheat oven to 450°F. 
Remove plastic wrap and place pork in a roasting pan. 
Cook for 30 minutes until pork begins to brown.
Remove the pork from the oven and lower the temperature to 325°F. 
Pour beer and the cup of water over the pork, add garlic cloves and bay leaves into the pan and cover lightly with aluminum foil.
Poke a couple of small slits at the top of the foil and cook for 2 hours.
Keep the oven heated at 325°F, remove pork from the oven and uncover (reserving the foil).
Add vinegar, brown sugar, black pepper and soy sauce and cover pork lightly with foil again. 
Return pork to the oven for an additional hour and a half.
Remove pork from the oven, remove the foil and let sit for 10 minutes.
With a large spoon, skim the fat off the top of the liquid (as much as desired, since it does take some time and patience).
Once fat is skimmed, pull the pork apart with 2 forks and allow the meat to absorb the liquid, then serve with rice. 
Smoked Pork Belly Carnitas Tacos Recipe
Dale Talde's Porky Melt Recipe
Revealed: Dinosaur Bar-B-Que Top-Secret Pulled Pork Recipe And Smoking Process