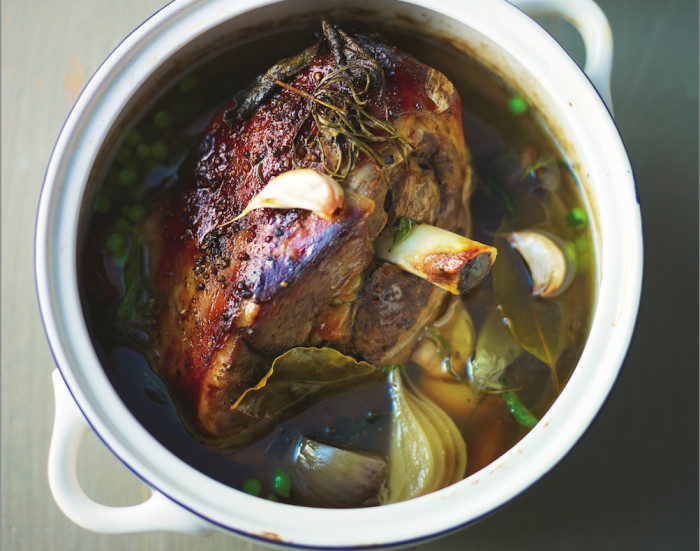 We're working our way through British chef and "lightening-up" empress Lorraine Pascale's new book, Everyday Easy. Just because it's light and simple doesn't mean it can't be flavor-packed and beautiful. 
Now, this is a slow-cook but very fast-prep dish, so I thought I would add it to the book. I made this at home one Sunday, just lobbing all of the ingredients into a pot and leaving it to cook for ages. I was not expecting anything amazing, just thinking about a bit of lamb for dinner. But when it was cooked, I tasted a little and nearly ate the whole lot and did the little dance that people sometimes do when they taste something really good. When I brought the lamb, basically half-eaten, to my hungry family, they were not amused, to say the least, and I ended up having to sling some chops on the grill to make up for it. I am not ashamed to admit that I love a good Australian Chardonnay, and its powerful flavors work well in this dish. Having said that, any other white wine would be great to cook with, too.
Ingredients
1/2

leg of lamb with bone in (thick fillet end), about 2 1/4 pounds

Salt

and freshly ground black pepper

2

red onions

8

cloves

garlic, unpeeled

4

sprigs

fresh rosemary

4

fresh sage leaves

2

bay leaves

1 1/2

cups

white wine

A couple

dabs of honey

1 1/4

pounds

roasting potatoes

Olive

oil

11

ounces

frozen peas
Directions
Remove the lamb from the fridge 30 minutes before cooking to bring to room temperature. Preheat the oven to 300°F and make sure the racks are set to fit a casserole dish and roasting pan.
Place the lamb in the casserole dish and season it thoroughly with salt and pepper. Cut the onions into quarters, keeping the roots intact. Peel off the skin and add the onions to the casserole dish together with the garlic cloves, rosemary sprigs, sage, and bay leaves. Pour in the white wine and drizzle h0ney over everything.
Place the lid on the casserole dish and place it in the oven, leaving it for about 4 hours. Set a timer for 2 hours and 30 minutes, at which point you will add the potatoes.
While the lamb is roasting, peel the potatoes and cut them into small pieces for roasting. Toss them in a roasting pan with a good drizzle of olive oil and leave them to sit.
When the timer goes off, after 2 1/2 hours, season the potatoes with salt and pepper, drizzle some more olive oil on them if needed, and place them in the oven. Toss the potatoes every so often.
Ten minutes before the meat is ready (after it has been roasting for 3 hours, 50 minutes), add the peas to the lamb's cooking juices.
Once everything is fully cooked, remove the casserole dish and roasting pan from the oven. The meat should fall off the bone easily and the potatoes should be crisp and golden. The meat does not need to rest after such a long cooking time and can be served immediately.
Find more roasts to enjoy for dinner on Food Republic: