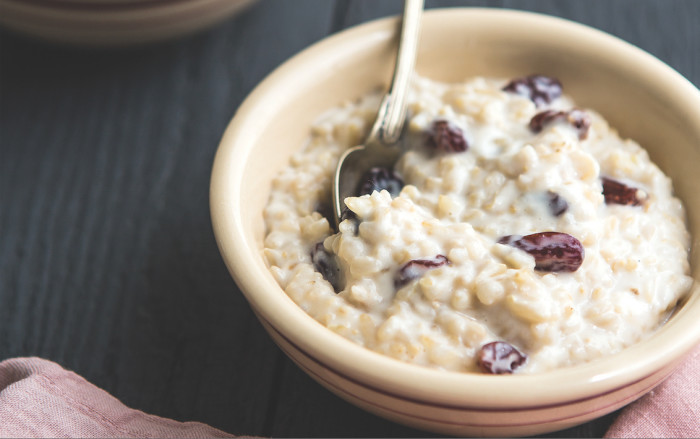 Make your morning a little brighter with a recipe from Rise & Shine, a new collection of recipes from food and nutrition writer Katie Sullivan Morford. Whether you go sweet or savory, vegan or fully carnivorous, there's a recipe in here that will wake you up right. This slow cooker coconut rice pudding is an instant winner.
Rice pudding for breakfast sounds dreamy. And it is. Especially for the cook, because all it requires is stirring a handful of ingredients together in a slow cooker and flipping the "on" switch. Done. The brown rice cooks gently until it turns soft, fragrant from the coconut milk, and mildly sweet from the maple syrup. The coconut milk also adds richness that will have you double-dipping into your Crock-Pot. Any leftover pudding travels well in a lunch box and also makes a tasty after-school snack.
Boost It: Top the finished pudding with your favorite fresh berries.
Make Ahead: This rice pudding can be made ahead of time and stored in the refrigerator for up to 3 days. It can be eaten cold or reheated. The rice will absorb more liquid as it cools, so feel free to add a little more milk, if desired.
Ingredients
1

cup

brown basmati rice

3

cups

milk

1

13.5-ounce can

light coconut milk

1/4

cup

pure maple syrup

1

teaspoon

vanilla extract

1/2

cup

raisins
Directions
For the rice pudding
Pour the rice into a fine-mesh sieve and rinse thoroughly over the sink. Allow to drain completely.

Transfer the rice to the slow cooker. Add the milk, coconut milk, maple syrup, and vanilla extract. Stir well. Put the lid on the slow cooker and set to low. Cook until most of the liquid is absorbed and the rice is very tender, about 4½ hours.

If a "skin" has formed across the top, simply mix it back into the pudding. Add the raisins and stir. Turn off the slow cooker. Serve warm or cold.