Slow Cooked Curried Chickpeas Recipe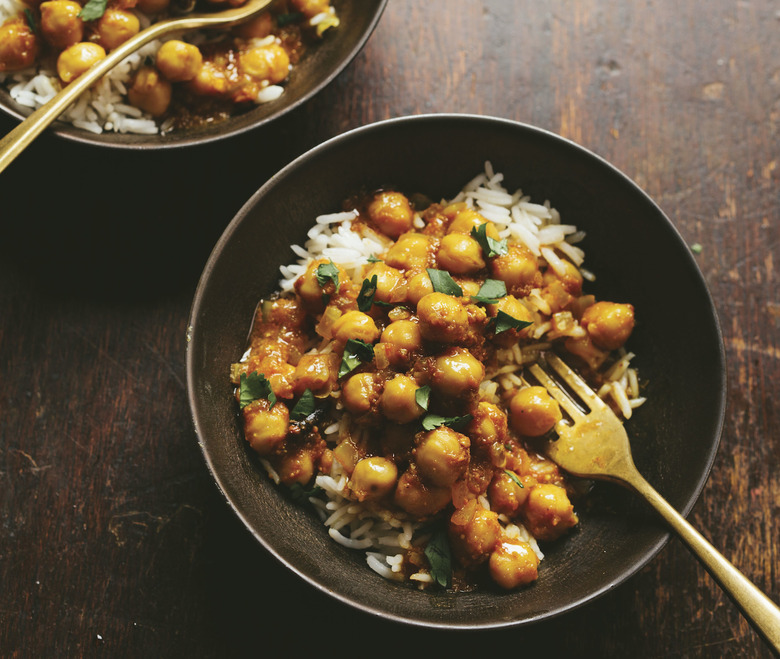 We may receive a commission on purchases made from links.
Slow-cooker chili is great, but if you're looking for a "set it and forget it" recipe with a little more spice, pick up a copy of author Neela Paniz's The New Indian Slow Cooker. This collection of classic Indian recipes made even simpler with your slow-cooker is a surefire way to ease into fall and winter cuisine. First up, the most appealing chickpea dish we've heard of in a while...
Many times during my college days, I'd come home in the late afternoon and raid the kitchen, hoping that Chandan, our cook, had prepared chana masala that day. His preparation had a lot of gravy and chiles, and was delightful over rice in a bowl along with some kachumber, a chopped salad of tomatoes, cucumbers, and red onions. I simply loved it! The recipe here is more in keeping with the traditional amount of masala or gravy, but should you wish to thin it out, just add more water (I have given you a range). You may also adjust the salt, and maybe add some more chile!
Sometimes I think that the slow cooker was built specifically for dishes like this one. In the past, one would have to remember to soak the chickpeas overnight to soften, and then cook them for hours. With the slow cooker, one can rest assured that after 10 hours of stewing without attention, the chickpeas are cooked to perfection.
Slow Cooked Curried Chickpeas Recipe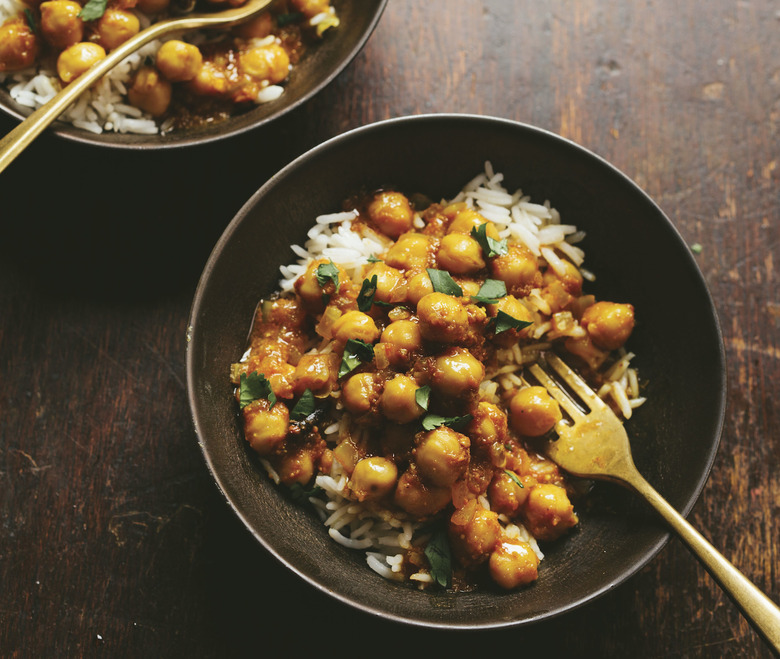 Ingredients
2 cups chickpeas
5-6 1/2 cups hot water
2 black cardamom pods
2 (1-inch) pieces cassia
4-6 cloves
2 bay leaves
1/4 teaspoon turmeric
1/4 teaspoon ground Indian red chile (see spice preparation note)
1 1/2-2 teaspoons salt
3 tablespoons canola oil
1 large yellow onion
6 cloves garlic
1 (2-inch) piece fresh ginger
1 medium tomato
2 whole peeled canned tomatoes
1 1/2 tablespoons ground coriander
2 teaspoons ground cumin
1/4 teaspoon turmeric
1/4 teaspoon ground Indian red chile
3/4 teaspoon green mango powder
1/2 teaspoon black salt
1/2 teaspoon ground black pepper
2 serrano chiles
1/4 cup water
chopped cilantro
Directions
Pick over the beans for foreign objects.
Add the chickpeas, water, cardamom, cassia, cloves, bay leaves, turmeric, ground red chile and salt to the cooker.
Cover and cook on high while preparing the masala.
Heat the oil in a large frying pan on medium-high heat.
Add the onions and fry until golden brown, about 10 to 12 minutes.
While the onions are browning, purée the garlic and ginger with a little water in a blender until smooth. Transfer to a small bowl.
Puree the tomatoes in the same blender jar without rinsing.
Once the onions are golden brown, add the garlic-ginger purée and the coriander, cumin, turmeric, ground red chile, mango powder, black salt and black pepper and fry with the onions for 2 or 3 minutes.
Add the puréed tomatoes and cook for 2 or 3 more minutes to incorporate all the spices.
Add the serrano chiles, and then add this masala to the slow cooker.
Pour 1/4 cup of water into the pan to deglaze, and add that also.
Cover and cook for 10 hours on low. 
Indian Slow-Braised Chicken Dum Pukht Recipe
Tomato Chickpea Curry With Chicken Recipe
Curried Lentil Pies Recipe