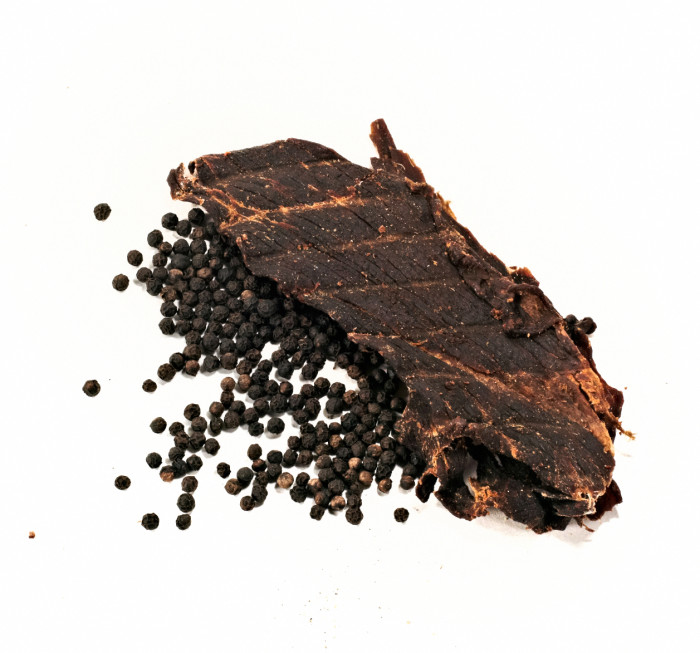 If you have a great butcher in your neighborhood, take a break from making burgers and meatloaf and cook up a batch of expertly seasoned jerky instead. The team over at SlantShack gave us tips for transforming your oven into a jerky-making machine (hint: all you need is a fork). They threw in a basic marinade recipe to get you started.
Think of jerky as a blank slate for you to test out your marinating concepts. SlantShack suggests adding some spices or fruit juices to mix things up, but really any ingredient you have can be marinade material. On top of being addictingly good, jerky is also incredibly easy to make — serve it as a snack with beer or gift it to your foodie friends.
Note: Home-cooked jerky is best done over the span of two days. Day 1 you should prepare the marinade and meat, allowing for an overnight marinating. Day 2 is for cooking.
Ingredients
For the Marinade
1

cup

soy sauce

1

medium

yellow onion, diced

1

medium

jalapeno, diced with seeds

1

tablespoon

black peppercorns

1

tablespoon

ginger, thinly sliced

2

tablespoons

honey

3

cloves

garlic, finely chopped

1

teaspoon

onion powder

1

teaspoon

cumin

1

teaspoon

cayenne pepper

1/2

teaspoon

cloves
Variations
Add fruit juices i.e. orange juice; pineapple juice; fresh lime juice for a sweeter flavor

Add Tabasco; select spicier pepper; hot chilies; chili powder; etc. to increase spice. Also try a small amount of ketchup
Directions
To Buy the Meat
Buy 2 lbs of meat. Leanest cuts are best: head to your local butcher to pick out a piece of brisket, top round, sirloin tip or any other lean cuts the butcher recommends (turkey breast is also delicious). Note: 1 lbs of raw meat will yield aprx. ½ lbs of jerky.

1.5 hours before marinating, trim fat and create ½ lbs cuts of meat (try to keep long portions if possible), wrap in saran and place in freezer.
To Slice Meat
When meat is moderately frozen, slice along the long side of the cuts 1/8" – ¼" inch strips. Alternate cutting with and against the grain.
For the Jerky
Combine marinade ingredients.
Place strips of meat and marinade in a zip lock bag, mix around so that meat is sufficiently covered and place in refrigerator overnight, let marinade for a minimum of 8 hours, 12 – 20 is best
Set oven to lowest temperature possible. As oven heats, place meat strips across oven racks.
When all the meat is in the oven, prop oven door open with a fork or ball of tinfoil at the bottom of the oven door, let jerky cook for 4 – 8 hours (cooking time will vary based on width of strips and oven temperature).

When the jerky is stiff and browned all the way through you're ready for fresh jerky snacking. Jerky will keep for months in an airtight container/zip lock bag at room temperature.