Skillet-Roasted Cauliflower Steaks With Jalapeño Creamed Spinach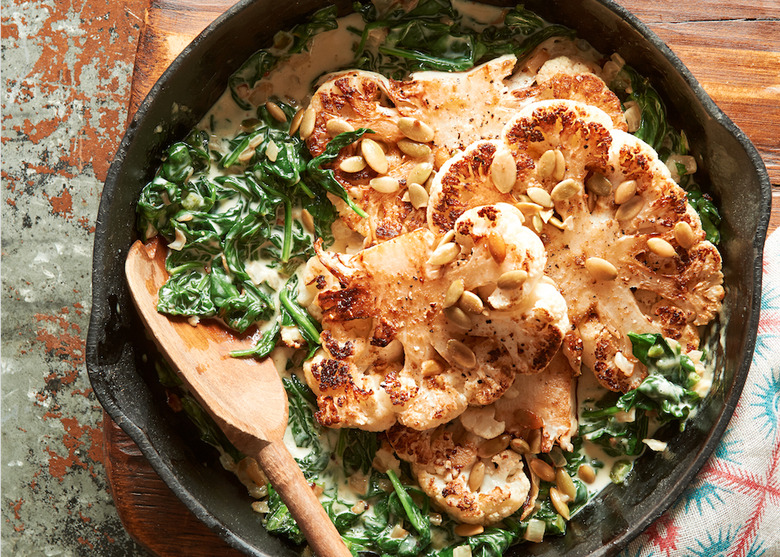 We may receive a commission on purchases made from links.
A sturdy cast-iron skillet is the key to a world of delicious dishes. With the power to sear and crisp like no other tool in your kitchen, this pan is definitely worthy of a whole cookbook from the culinary pros at Better Homes and Gardens. 
Cauliflower makes a great stand-in for meat in this vegetarian dinner. Look for the freshest cauliflower you can find: It should have tight, compact florets with no signs of yellowing or browning and crisp-looking leaves at the base.
Reprinted with permission from Better Homes and Gardens Skillet Meals
Skillet-Roasted Cauliflower Steaks With Jalapeño Creamed Spinach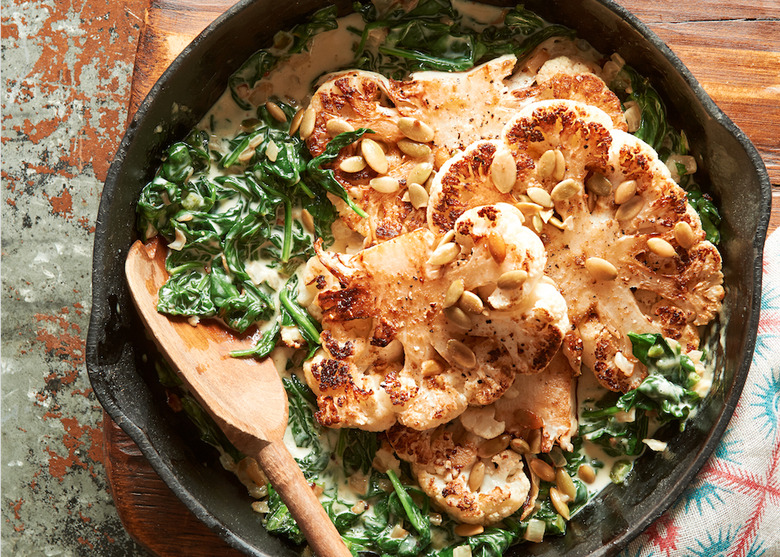 Ingredients
1 to 2 heads cauliflower (about 3 pounds total)
1 tablespoon olive oil
1/4 teaspoon salt
1/4 teaspoon black pepper
1/4 teaspoon ground cumin
1/4 cup roasted salted pepitas (pumpkin seeds)
2 5- to 6-ounce packages fresh baby spinach
1 tablespoon olive oil
1/2 cup onion
1 to 2 fresh jalapeños
1 cup heavy cream
1/4 teaspoon each salt and black papper
Directions
:::creamed spinach:::
Heat an extra-large skillet over medium heat. Add spinach one package at a time to hot skillet; stir until wilted.
Transfer to a colander. Squeeze out excess liquid.
In the same skillet heat olive oil over medium heat. Add onion and jalapeños; cook 5 minutes or until tender.
Add heavy cream, salt and pepper. Bring to boil. Cook 3 to 5 minutes or until cream starts to thicken.
Add the wilted spinach. Simmer until desired consistency.
:::cauliflower:::
Preheat oven to 375°F. Remove outer leaves from the cauliflower. Carefully trim stem end, leaving core intact so florets are still attached. Turn cauliflower head core side down; using a chef's knife or large serrated knife, cut cauliflower vertically into four 1- to 1 1/4-inch thick "steaks" (reserve ends and loose pieces for another use).
In an extra-large oven-going skillet heat oil over medium heat. Add cauliflower steaks; cook 4 to 6 minutes or until browned on both sides, turning once. Sprinkle with salt, pepper, and cumin. Transfer skillet to oven; roast, uncovered, 15 to 20 minutes or until tender. Remove cauliflower from skillet; cover to keep warm.
Prepare Jalapeño Creamed Spinach. Serve cauliflower steaks over creamed spinach. Sprinkle with pepitas.