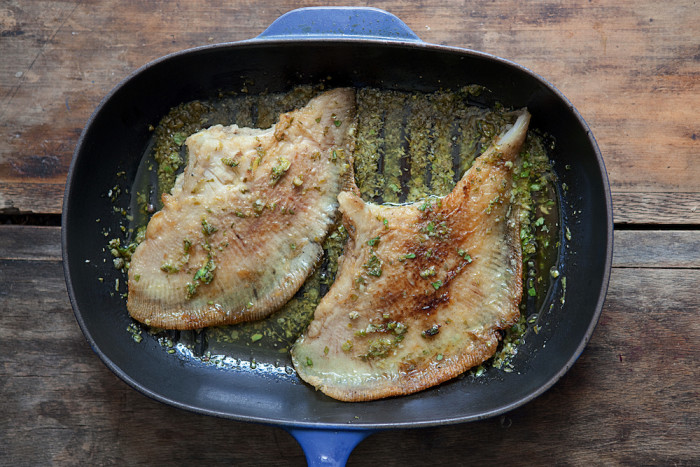 It may look like you're eating any other fillet of fish, but when it comes to skate, it's all about wings. They're not actually the wing of the fish or even a fish at all (see: Buffalo wings), but the enormous pectoral fin of a shark known as skate. Once the leathery skin is wrested off — a task you should probably leave to your fishmonger — you're left with a meaty, flavorful piece of fish that takes well to simple preparations.
Skate has a reputation of spoiling quickly for a reason, so make sure you buy the freshest wings possible and use them the same day.
Ingredients
2

tablespoons

basil leaves, finely chopped

2

tablespoons

chives, finely chopped

2

tablespoons

capers, finely chopped

2

tablespoons

flat-leaf parsley, finely chopped

1

clove

garlic, finely chopped

finely grated zest of 1/2

lemon

juice of 1

lemon, strained

6

tablespoons

olive oil

4

skate wings

all-purpose flour, for dusting

Salt and pepper
Directions
Put the basil, chives, capers, parsley, garlic, lemon zest and lemon juice in a bowl. Stir in half the olive oil and season with salt and pepper to taste.
Heat the remaining oil in a frying pan or skillet. Dust the skate wings with flour, season with salt and pepper and add to the pan.
Cook for 4-5 minutes on each side, until the flesh has turned snowy white and is beginning to come away from the cartilage.
Pour the prepared herb sauce over the fish and cook over low heat for another few minutes, then transfer to a serving platter and serve immediately.