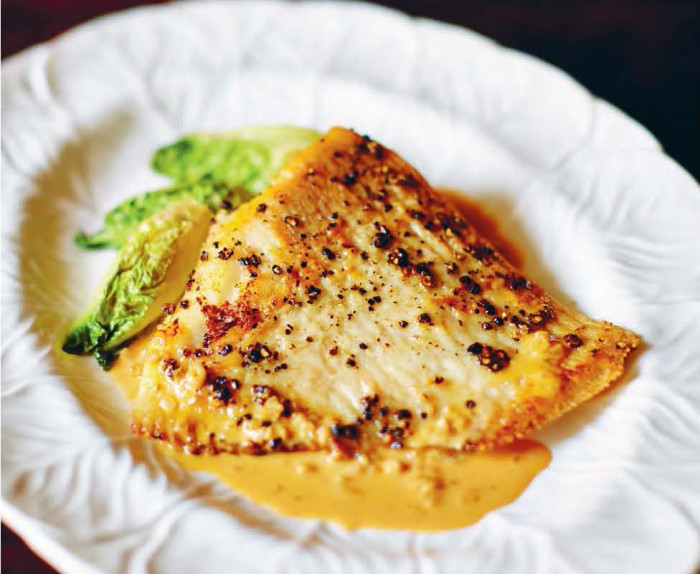 The iconic Fortnum & Mason is truly a house of fine foods. This extra high-end London grocer is home to a world of produce, cheese, meats, fish, desserts and prepared dishes like no market you've been to. And their new cookbook, by food critic and writer Tom Parker Bowles, is filled with stories, how-to guides to some of their most famous wares and recipes from their renowned kitchens.
No, not a typo, rather cartilaginous ray, cooked with the classic pepper sauce. The soft flesh has a robust flavor and holds up well to all that creamy pungency. Crack the pepper in a pestle and mortar and apply liberally.
Reprinted with permission from The Cook Book: Fortum & Mason
Ingredients
2

skate wings, weighing about 200 grams each

2

tablespoons

olive oil

1 1/3

tablespoons

butter

2

tablespoons

chopped flat-leaf parsley

Salt and coarsely cracked black pepper
Sauce
2

tablespoons

unsalted butter

1

banana shallot, finely diced

1

teaspoon

coarsely cracked black pepper

2 3/4

tablespoons

brandy

Scant 1/2

cup

white wine

1/2

cup

chicken stock

3 1/3

tablespoons

double cream
Directions
For the skate
First make the sauce. Heat the butter in a small pan, add the shallot and cracked black pepper and cook until the shallot is tender. Add the brandy, heat for a few seconds, then set it alight, standing well back. When the flames have died away, add the white wine and simmer until reduced by about three-quarters. Add the chicken stock and simmer until reduced by half. Finally add the double cream and simmer until the sauce has reduced to a coating consistency. Taste and adjust the seasoning if necessary.

Season the skate wings well with salt and coarsely cracked black pepper. Heat the olive oil and butter in a heavy-based frying pan that is large enough to hold the skate. Add the fish to the pan and fry for 4-5 minutes on each side, until the flesh parts easily from the bone when a knife is inserted.

Serve the skate coated with the pepper sauce and sprinkled with the chopped parsley.