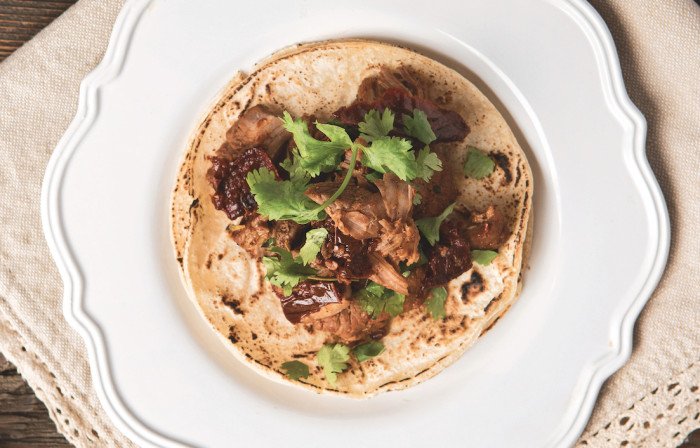 Let's hear it for Butcher Babe, the Southern chef who treats meat like the belle of the ball. Fusing classic French technique with the bountiful larder of the American South (and a heavy-handed dose of rebellion), Loreal Gavin's cookbook is a pleasure to read and cook your way through. This 60 minute carnitas will become your go-to recipe for taco night. 
When I hear the words "cilantro," "beer" and "lime," I get hungry. Even if I wasn't hungry before, I can't help myself. If you take these South-of-the-border fixin's and add some spicy chipotles and pork, 60 minutes later it'll be dinner time. It's a misconception that cooking pork butt has to take several hours. I cut the cooking time in thirds by using pork butt steaks that are thinly cut versus one big piece that weighs up to 10 pounds (4.6 kg) whole. You can use this method for various other types of meat also.
Butcher Babe Tips
✴ You can reduce the braising liquid and turn it into a sauce for your carnitas.
✴ The pork butt isn't actually a butt at all. Did you know it's actually the shoulder of the animal? The bone in the pork butt is actually part of its shoulder blade. Another term for this cut of meat is "Boston butt."
Ingredients
1

tablespoon

ground cumin

1

tablespoon

salt

1

tablespoon

red chili flakes

1

tablespoon

packed brown sugar

1

tablespoon

chili powder

3

tablespoons

vegetable oil

2

1-inch-thick bone-in pork butt steaks

16

ounces

beer or cold water

2

cups

cold water

1

3-ounce can

diced or whole chipotle peppers

Juice from 2 limes

1

bunch

fresh cilantro, stems and leaves chopped

1

red onion, small diced
Directions
For the carnitas
Mix the cumin, salt, red chili flakes, brown sugar, ground chili pepper and vegetable oil together in a medium bowl and coat the pork steaks with it. In a large cast iron pan, sear both sides of the pork steaks over medium-high heat until both sides are golden brown. Turn down the heat to medium and add the beer, cold water, chipotle peppers, lime juice, cilantro and onion. Using the empty chipotle-pepper can, keep adding cold water until the steaks are submerged. (Using the empty can rinses it out and transfers that lovely chipotle flavor from the can to the braising liquid.)

Simmer the steaks, covered, for 45 minutes over low heat so that the protein can break down.

If you let the liquid boil rapidly, it will cause the meat to become tough. Slow-and-low is the ticket here.

Remove the pork steaks once they are tender and shred them on a cutting board. Now it's time for tacos, enchiladas, salads and whatever else you are hungry for!