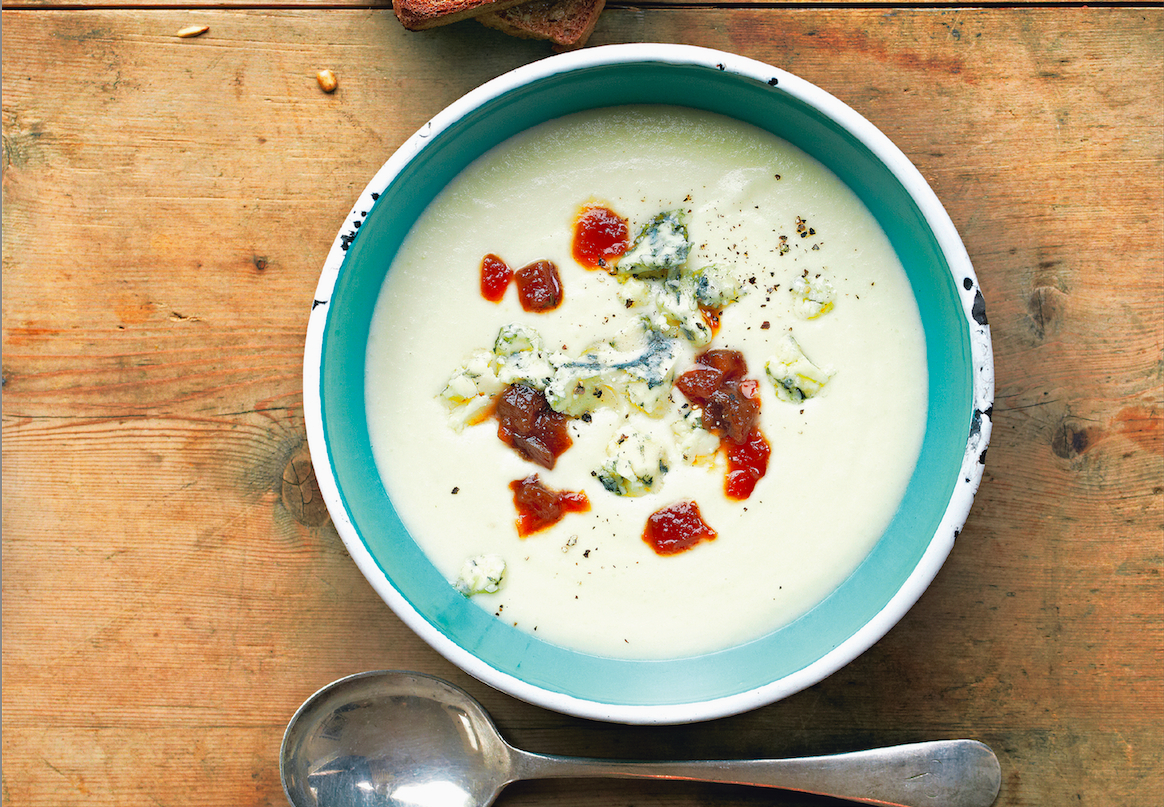 When in London, stop by Hampstead cafe Ginger & White for superb coffee, baked goods and fresh, simple food made with the best British ingredients. Their new cookbook is a must-read for fans of this new spin on classic cuisine. Cauliflower soup is hearty comfort food you'll make over and over again.
When cooked for a long time, cauliflower has a beautiful, velvety texture with a nutty and slightly spicy flavor. It goes excellently with blue cheese, but it needs some sharpness to stop the whole thing from getting too cloying, so we add lemon and a spoonful of chutney as a garnish.
Ingredients
2

large

potatoes, cubed

1

white onion, diced

sprig of

thyme

3 1/2

tablespoons

butter

2

cloves

garlic, crushed

1

medium

cauliflower (about 1 pound 5 ounces), trimmed and broken into 1 to 1 1/2-inch florets

1

quart

vegetable stock

5/8

cup

heavy cream

juice of

1/2 lemon

9

ounces

blue cheese or Stilton cheese

4

tablespoons

chutney (we use pear or apple chutney)

freshly ground black pepper

slices of

toasted granary bread, to serve
Directions
Place the potatoes and onion in a large saucepan.
Add the thyme and butter, cover, and cook over a low heat until the potato is tender and the onion is translucent.
Add the garlic and cauliflower, stirring to coat in the butter, and cook for 5 minutes.
Pour in the stock, cover, and simmer for 30 minutes, or until the cauliflower is tender.
Blend the soup to a smooth puree, then return it to the saucepan and loosen with a little water if necessary.
Add the cream and heat through.
Season well and add lemon juice to taste.
Set out your soup bowls.
Crumble a little blue cheese or Stilton into each one, spoon the chutney on top, and pour the soup around it.
Add a twist of black pepper on top and serve with slices of toasted granary bread.
Find more creamy soups on Food Republic: