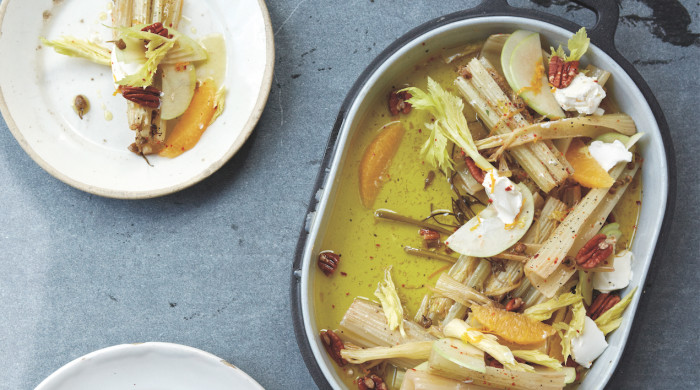 Australian chef Chris Honor is a master of his craft: elevating vegetable dishes using the best product, keeping things utterly simple and bringing vibrant, healthy produce-driven food to the masses. His North London restaurant, Chriskitch, is a must-visit for any fan of fresh, vegetable-forward cuisine, and his new cookbook is packed with hits. 
It is not often you see celery taking center stage on the plate; it is usually just an add-on, like chopped onions. But celery has great flavor and deserves to be enjoyed for what it is. So here is a recipe to get it out of the crisper and onto the table. It's equally good as a room-temperature side dish for grilled meats.
Reprinted with permission from Chriskitch: Big Flavors From a Small Kitchen
Ingredients
1

head of

celery, stalks separated and halved

Pinch of

dried chamomile flowers (from a tea bag)

2

bay leaves

2/3

stick

unsalted butter, cut into pieces

A few

sprigs of

fresh thyme

coarse sea salt

1/2

cup

pecans, coarsely chopped

1

apple, thinly sliced into half moons

1

Orange, zested and segmented

2 3/4

ounces

soft goat cheese, in coarse pieces

A

pinch of

chili flakes

extra-virgin olive oil, to taste

freshly ground black pepper
Directions
For the dish
Preheat the oven to 340ºF.

In a shallow baking dish, combine the celery, chamomile flowers, bay leaves, butter, thyme, and salt. Spread out the celery stalks as much as possible to keep the layer thin. Splash in a few spoonfuls of water, cover with aluminum foil, and cook for about 1 hour, or until tender.

Remove from the oven. When cool, transfer to a shallow dish and add the pecans, apple, orange, goat cheese, chili flakes, and oil. Season and serve.