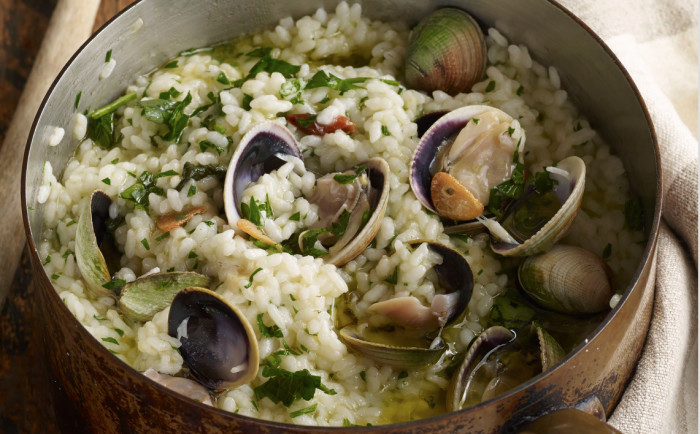 New York City restaurant Txikito, run by chefs Alexandra Raij and Eder Montero, is an ode to the phenomenal food of Spain's famed Basque region. Whip up a few of their specialties at home with the help of The Basque Book, and you'll never throw a party without pintxos again!

I used to like going to the fish market around Christmastime with Eder's maternal grandmother, Eulalia. The authoritative Basque matriarch would take an elevator from Bilbao's Casco Viejo, where she lived, to Begoña, the neighborhood that towers high above the city. "Better fish at better prices," she would say. "Of course she was right," Eder would later say, "because she is a woman." Eulalia's fish lady was a well-known secret, betrayed by the lines that formed around the block. She had an incredible variety of fish and other sea critters, and everything she sold was pristine.

We would eat her clams raw. I remember that when I would bring my knife close to the plate, they would close around the blade so I could lift them out and pry them open in one motion. I had never seen such active clams.

This dish always makes me think of the heady ocean-infused perfume that rises when cockles or clams and parsley are mixed together. Salty and clean is the only way to describe it. In the Basque Country, you don't need to buy parsley for your fish. Because fish is never eaten without parsley and is rarely eaten with anything more than that, parsley comes courtesy of the fishmonger. When we finished shopping, Eulalia and I would take the elevator back to the street, return home, place a sprig of parsley in Eulalia's figurine of San Pancracio (Saint Pancras) for luck, work and money, and then get cooking.
Ingredients
2

pounds

cockles or manila clams

4

tablespoons

extra-virgin olive oil, plus more for finishing

2

cloves

garlic, smashed

1

dried red guindilla pepper, or small pinch of red pepper flakes

2

flat-leaf parsley sprigs plus 1/4 cup loosely packed fresh flat-leaf parsley leaves, coarsely chopped, for finishing

1/4

cup

dry white wine

1/4

cup

manzanilla sherry

About 2

cups

mussel stock or fish stock, or as needed

1/2

Spanish onion, minced

kosher salt

1

cup

Bomba rice
Directions
For the rice
In a large bowl, soak the cockles in cold water to cover for 5 minutes. Drain and repeat three times, until the cockles are free of sand. Set aside.

Heat a heavy 3-quart stockpot over medium heat and add about 2 tablespoons of the oil, or just enough to cover the bottom. Add the garlic and pepper and cook for about 30 seconds, until the garlic turns light gold. Add the parsley, cockles, white wine and sherry and simmer for about 2 minutes to cook off the alcohol. Cover and steam, checking frequently to see if the cockles have opened (even a crack means a cockle is open). This should take from 1½ to 2 minutes from when the pan was covered. Using tongs, transfer the cockles as they open to a bowl. Discard any cockles that failed to open after 3 to 4 minutes. Strain the cooking liquid through a fine-mesh strainer and reserve.

Cover the cockles with a clean kitchen towel. Combine the strained cooking liquid with enough stock to total 2½ cups.

Heat a saucepan over medium-low heat and add the remaining 2 tablespoons oil, the onion, and a pinch of salt. Sweat the onion for 8 to 10 minutes, until sweet and translucent. Add the rice, stir to coat, and cook for 1 minute, stirring constantly. Add the stock mixture, raise the heat to medium-high, and bring to a simmer. Turn down the heat until the rice is barely percolating and cook, uncovered and without stirring, for about 13 minutes, until the rice is tender but firm. Remove from the heat and let rest, uncovered, for 2 minutes.

Fold the cockles and chopped parsley into the rice and transfer to a serving dish. Finish with a thread of oil and serve immediately.