Simple Socca Recipe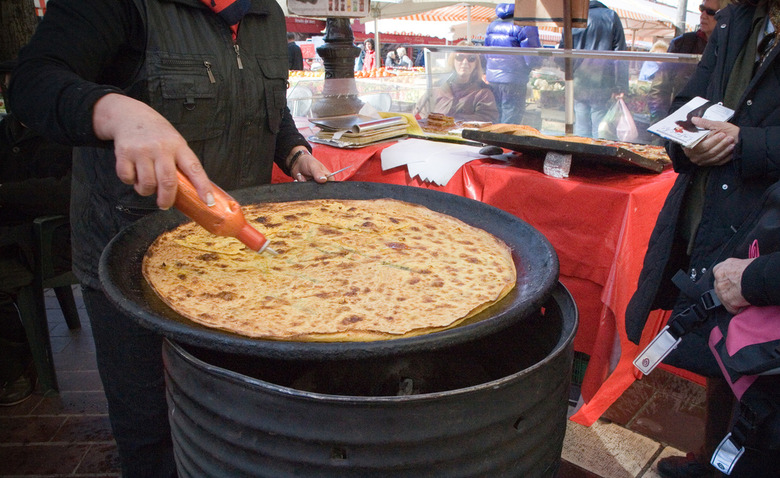 Photo: Jennifer Pickens on Flickr
Socca is a savory, peppery pancake made with chickpea flour. Served piping hot at several establishments along the winding, narrow streets of Old Nice, France, it goes great with a cold beer or a glass of rosé wine. Though it's simple to make, the key ingredient, chickpea flour (also known as Besan), can be a little tricky to find. Middle Eastern and Indian grocery stores should carry it, as will many specialty grocers. Once you've got that, the rest of our simple socca recipe is easy.
Simple Socca Recipe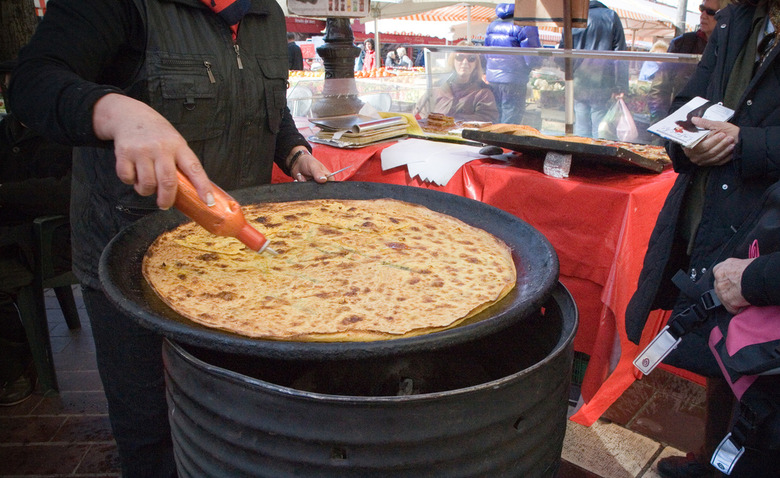 Ingredients
1 cup chickpea flour
1 cup warm water
1-3 teaspoons black pepper
1 teaspoon salt
4-5 teaspoons olive oil
Directions
Put a well-seasoned cast-iron skillet or pizza pan in the oven and preheat to 450 degrees. While that's heating up, gather the ingredients.
Add the salt and pepper to the flour, then pour the water in slowly. Whisk the batter until smooth. Cover and let sit for at least 15 minutes. (You can let it sit for as long as 12 hours. Which is good to know, if you're making a lot of it.)
Take the hot pan out of the oven and carefully pour in 2-3 tablespoons of oil. Swirl to coat. Pour in the batter and put back in the oven for 15 minutes. 
Take the pan out of the oven, and with two spatulas carefully flip the pancake so the topside is now face down. Let it sit for a couple of minutes to brown. Cut and serve along with cold beer or wine.