Simple Shrimp And Grits Recipe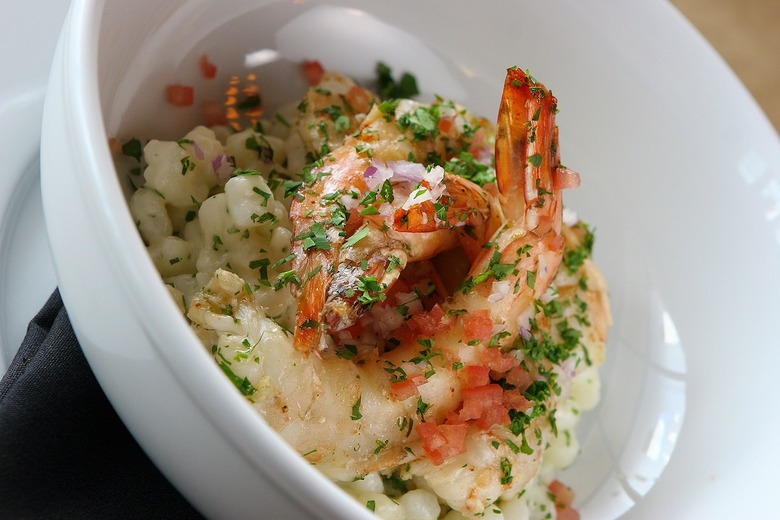 Photo: Bulldog Barbecue
This recipe for creamy, cheesy grits topped with marinated shrimp hails from heralded, no-frills Miami eatery Bulldog Barbecue, owned by Chef Howie Kleinberg. This recipe for two is easy to make, fancy-looking, and incredibly delicious.
Simple Shrimp And Grits Recipe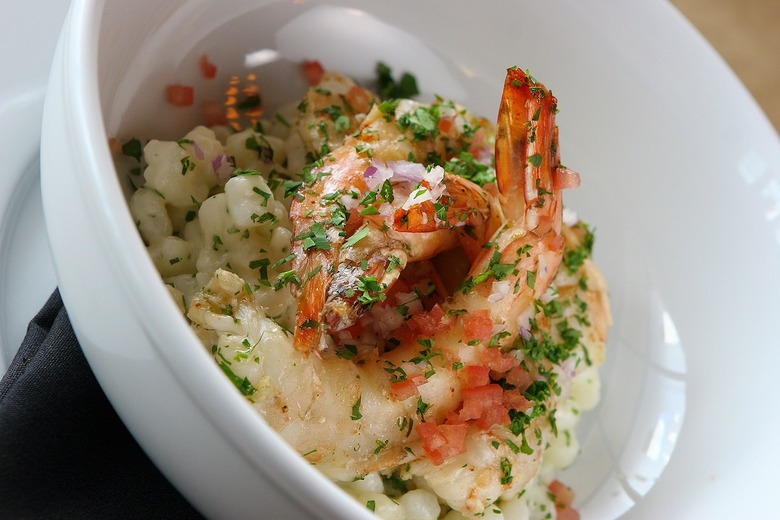 Ingredients
1 pound shrimp
3 ounces olive oil
1 ounce Bulldog's Best Barbecue Sauce
2 ounces garlic
2 ounces shallots
1 cup chicken stock
1 cup hominy grits
2 ounces white wine
4 ounces tomatoes
1 ounce heavy cream
1 ounce butter
3 ounces white cheddar cheese
1 ounce parsley
4 ounces scallions
Directions
Combine shrimp with BBQ sauce and 1½ oz. olive oil. Set aside to marinate for four hours.  
Heat medium saucepan over medium heat. Add remaining extra virgin olive oil, half of the chopped garlic and half of the shallots and cook, stirring frequently, until translucent.  
Add chicken stock and bring to a boil. Add grits and stir constantly until chicken stock is evaporated. Set aside.  
Heat large pan over medium heat. Add shrimp and cook until opaque, about 2 minutes.
Add remaining chopped garlic and shallots and cook until translucent. Deglaze pan with white wine and add tomatoes, salt and pepper. 
To finish grits, over medium heat add heavy cream, butter, white cheddar, chopped parsley, and salt and pepper to taste.  
Divide grits between two bowls and place shrimp on top. Garnish with sliced scallions.