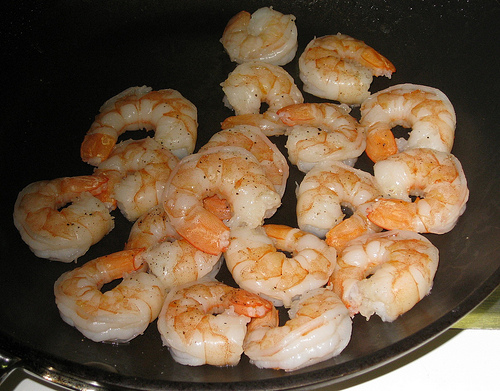 This simple salt and pepper shrimp recipe paired with mango and sweet chile dipping sauces is sure to be an instant summer classic. Mmmmm. Shrimp.
Ingredients
2

pounds

medium fresh shrimp, peeled and de-veined (about 26-30 per pound)

vegetable oil, for sauteeing

Salt and pepper
Directions
Heat a large skillet over medium-high heat.
Season the shrimp with salt and pepper.
Once the pan is hot, add a small amount of oil to the pan, about 1-2 tablespoons.
Add the shrimp, but do not crowd the pan. I recommend you cook them in batches.
These small shrimp will cook very quickly so turn them once they begin to turn opaque and pink.
Once cooked, remove from the pan immediately and set aside.
Serve while warm or at room temperature with the mango and sweet chile dipping sauces.