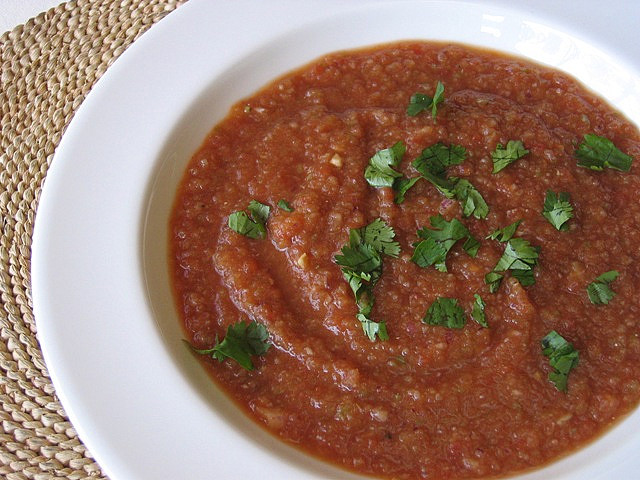 Gazpacho is essentially just a tomato-based soup, served cold. The key to making a killer gazpacho is ripe tomatoes. If you don't use fresh, ripe tomatoes, your gazpacho will turn out bland or mealy. If you use sweet, in-season tomatoes, and you follow the instructions in this simple gazpacho recipe, you will be psyched. Especially if it's sweltering out and you need to cool down.
This recipe keeps the tomatoes a little chunky for texture, and there's some hot sauce for an added kick. Wanna spice it up even more? Add more black pepper or throw in half a jalapeño.
Ingredients
3

large

tomatoes, ripe, rough chopped

1

cucumber, seeded, and coarsely chopped

1

large

bell pepper, seeded, cored and roughly chopped

1

green bell pepper, cored, seeded and roughly chopped

1

stalk

celery, chopped

1

Spanish onion, peeled, cored and roughly chopped

3

garlic cloves, minced

2

cups

tomato juice

1/2

lemon, juiced

2

teaspoons

hot sauce, we like Sriracha

1/4

cup

extra- virgin olive oil

sour cream, for topping, optional

cilantro, fresh for garnish, optional

kosher salt, for seasoning
Directions
In the bowl of a food processor, add the tomatoes, cucumber, bell peppers, celery, onion and garlic and pulse just to combine. 4 or 5 pulses will do. Don't over process we want to keep it a little chunky. The next step will thin it out.
Remove and in a large bowl combine the olive oil, lemon juice, tomato juice and hot sauce.
Add the pureed vegetables and season with salt. You can add more hot sauce here if you want it spicier, we usually do.
Serve and top with sour cream and cilantro.

---
Looking for more great recipes to put those summer tomatoes to use?