Simple French Onion Soup Recipe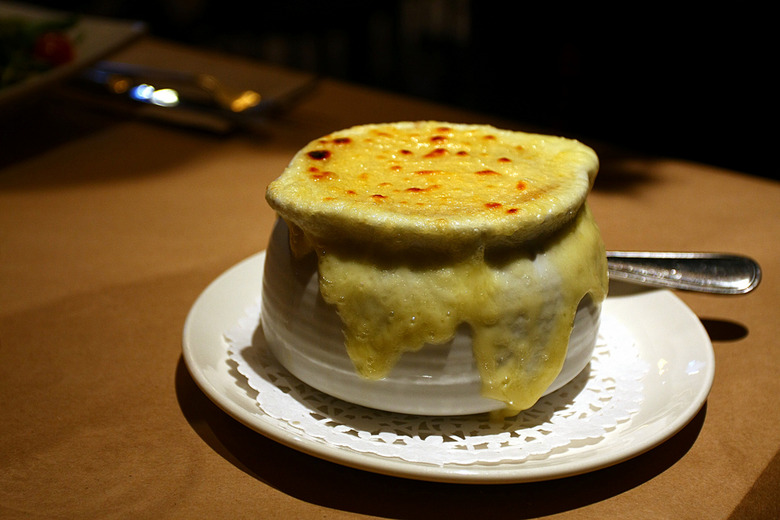 Beef broth, caramelized onions, croutons and melty cheese makes the ultimate soup. (Photo: Martin Cathrae on Flickr.
Though a lot of French restaurants stateside started the Bastille Day celebrations early this past weekend, it's actually July 14. In the run-up to France's national holiday, La Republique de Food (that's Food Republic to you) is proud to present beaucoup French recipes for you home cooks aspiring for a little Parisian flair. First up, the extremely classic and always delicious French Onion Soup.
We don't know why the combination of beef broth, caramelized onions, croutons and crispy melted gruyère is so addictive, but answer this: When was the last time you saw an unfinished bowl of French onion soup? And raise your hand if you've ever picked the crusted cheese off the rim of a bowl of the stuff before reaching for another slice of baguette to mop up the last drops.
Check back often at Food Republic's recipe tab for more French recipes. We'll also have primers on how to order in French and plenty of wine and Champagne tips as well. Bon appétit!
Simple French Onion Soup Recipe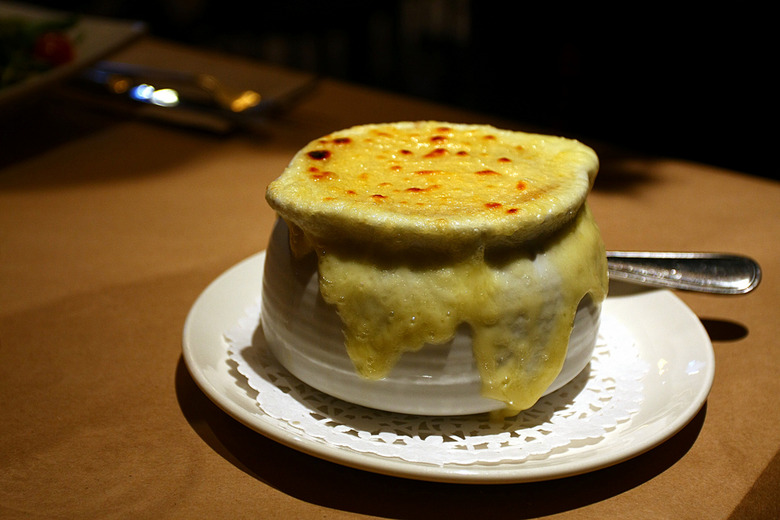 Ingredients
1 1/2 pounds onions
1 ounce clarified butter
2 ounces Calvados
4 cups chicken stock
4 cups beef broth
6 to 8 large croutons
1/2 pound gruyere cheese
Salt and pepper
Directions
In a large heavy bottomed pot, cook the onions in the clarified butter over medium heat until brown and caramelized. This will take about 30 minutes on medium-low heat. Stir occasionally and be careful not to burn, adjust heat to lower temp if necessary.
Deglaze the pan with the Calvados. Add the stock and broth.
Simmer until the onions are soft. Season with salt and pepper.
Distribute the soup to individual oven-proof crocks or bowls.
Place a crouton on top of each serving of soup. Top with a heavy sprinkling of the grated cheese.
Place under the broiler in your oven until golden brown and bubbly.