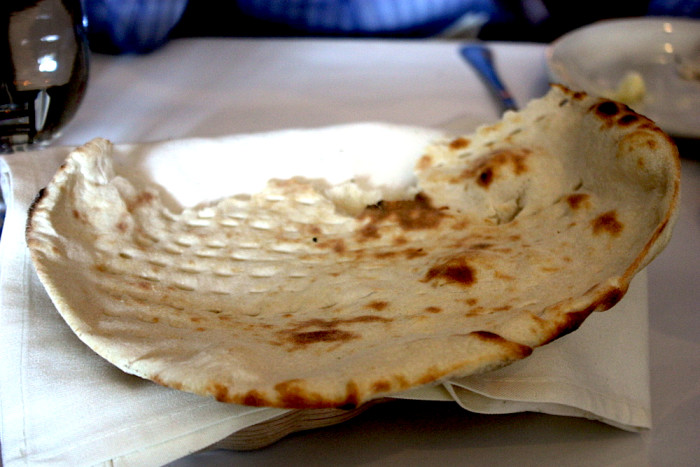 What makes bread flat? Skip the yeast and you've got a cracker-thin carb to haul any of your favorite flavor combos. Get creative with the toppings of your choice or simply slice it into strips and dip in olive oil or hummus.
The 7/20: If you have these items in your arsenal, recipes categorized by 7/20 can be made with 7 or fewer additional ingredients in only 20 minutes of active cooking time.
Ingredients
2

teaspoons

dried oregano

1/2

cup

whole milk

1/2

cup

olive oil

2

large

egg yolks

1

large

egg

3

cups

unbleached all-purpose flour

2

teaspoons

salt

flour for dusting

Kosher salt and chili flakes for sprinkling
Directions
Preheat the oven to 400°F.
Combine the oregano, milk, olive oil, and 2 tablespoons water.
In a medium bowl, lightly whisk the egg yolks and the egg. Stir in the milk and set aside.
Combine the flour and salt in a large bowl and make a well in the center. Pour the egg mixture into the center. Using a fork or your hands, slowly gather the flour into the liquid, adding more flour as needed, mixing until a dough forms. Dust your work surface with flour.
Transfer the dough to the floured work surface and knead until smooth, about 10 minutes. Cover the dough with a damp towel and let rest for 10 minutes.
On a lightly- floured work surface, roll out the dough to a 10-inch round. Using a fork, prick holes all over the surface of the dough. If you want strips cut them now before you bake.
If using a pizza stone, place the dough directly on it. Otherwise, place the dough on a baking sheet lined with parchment paper. Bake the flatbread for about 12 minutes, or until golden brown.
Sprinkle the warm bread with salt and chili flakes.