Simple Croque Monsieur Recipe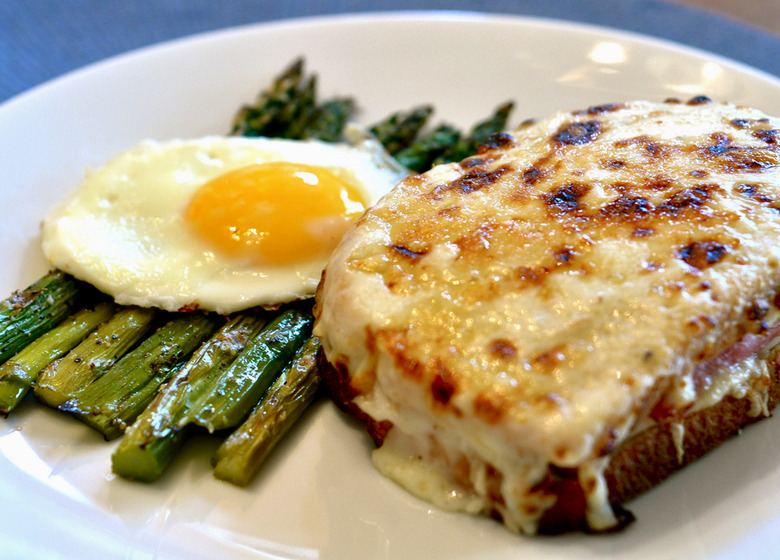 Photo: kimberlykv on Flickr
Béchamel, like bacon, makes everything better. So it's no wonder that the sandwich of ham and cheese smothered in béchamel sauce that the French call a Croque Monsieur* is so damn delicious. To be honest, a croque monsieur is probably best eaten while seated at a Parisian café reading Sartre and smoking a Gitane cigarette. But that doesn't mean that you can't make a tasty croque at home. Once you master this, step it up a notch and add a poached or fried egg on top to make a Croque Madame (though you may want to consult the footnote first).
*Did you know that the croque monsieur gets its name from the French verb "Croquer," or to crunch and Monsieur, or Mister. That makes it a Mister Crunch sandwich!
Simple Croque Monsieur Recipe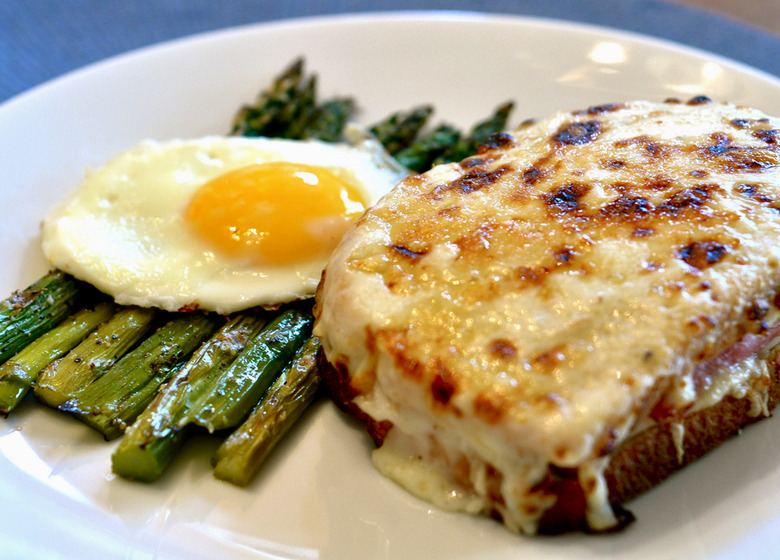 Ingredients
2 tablespoons unsalted butter
2 tablespoons all- purpose flour
1 cup warm milk
1 pinch nutmeg
4 thick slices white bread
Dijon mustard
4 ounces ham
4 ounces gruyere cheese
1/4 cup gruyere cheese
Directions
In a small heavy bottomed pot, melt the butter over medium-high heat. Once it starts to bubble and foam add the flour and whisk for another 30 seconds, stirring continuously. Add the warm milk and stir until smooth.
Spread the Dijon on one side of each piece of bread. Top 2 pieces of bread with even amounts of the ham and cheese. Then place the other two pieces of bread on top to make the sandwiches.
In a large pan melt another tablespoon of butter. Add each sandwich and lightly brown on both sides.  
Place the sandwiches on a sheet pan and top with the béchamel sauce. Top each with the grated Gruyere and place under the broiler until golden brown and bubbly.