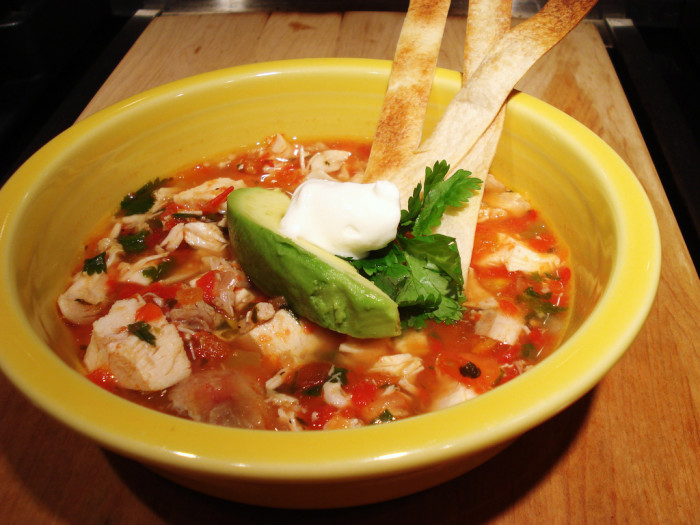 If you love tacos you'll dig this soup. While the list of ingredients may seem long at first glance, none of them are difficult to find and some are probably already in your spice drawer. Shortcuts like using a store-bought rotisserie chicken cut your prep time in half. This chicken tortilla soup is quick, easy to make AND it's topped with crispy tortilla chips, so you can't go wrong.
Ingredients
2

tablespoons

vegetable oil, for cooking

1

onion, minced

2

cloves

garlic, minced

1

jalapeño chili, seeded and minced

6

cups

chicken stock

1

(14.5 ounce) can

black beans, drained and rinsed

1

(14.5- ounce) can

crushed tomatoes

3

cups

chicken, cooked, cubed or shredded

1

teaspoon

chili powder

1

teaspoon

cumin

2

limes

1 juiced

kosher salt for seasoning

1

cup

cilantro, chopped, plus some whole leaves for garnish

sour cream, for garnish, optional

3

scallions, sliced thinly

1

cup

monterey jack cheese, shredded

1

avocado

peeled

tortilla chips or strips, for garnish*
Directions
In a large pot, over medium heat add 2 tablespoons vegetable oil. Add the onion, garlic and jalapeño and cook, stirring occasionally until the onion is soft and translucent.
Add the chicken stock, black beans and crushed tomatoes.
Stir in the cumin and chili powder. Bring to a simmer and add the chicken. Simmer for 5 more minutes and add the lime juice and chopped cilantro. Season with salt.
Serve in bowls and top each with cheese, sour cream, cilantro, avocado, sliced scallions, sour cream and tortilla chips.
*Make your own tortilla chips or strips with our Easy Homemade Tortilla Chips recipe.