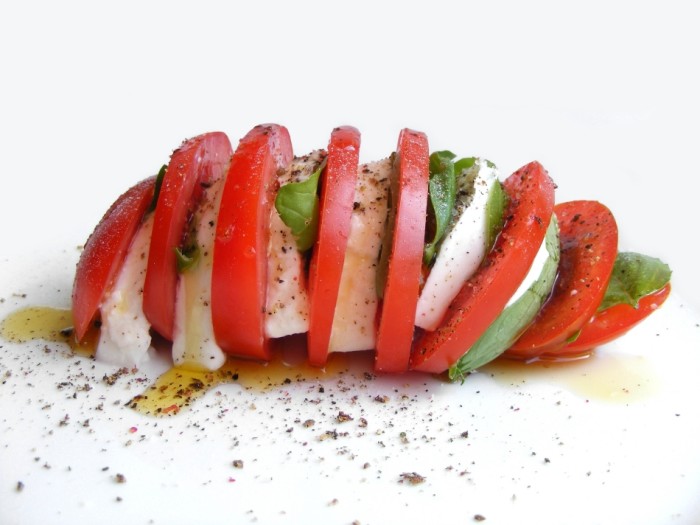 Caprese salad is said to have originated in the region of Italy that includes the Isle of Capri, but the only thing that matters about it nowadays is that the tomatoes are ripe, the basil is fresh, and the mozzarella is good. In fact, if you can get fresh mozzarella from an Italian market, and you've got a decent olive oil, the tomatoes and such, this will be one of the easiest dishes to put together that you'll find here on Food Republic.
Serve it up on a platter at a backyard barbecue or before a refreshing summer pasta dish and you've got the makings of a perfectly satisfying meal.
Ingredients
2

large

tomatoes, ripe, sliced thick

1/2

pound

fresh mozzarella, about 2 medium balls, sliced thick

10- 12

leaves

basil, fresh, washed

extra virgin olive oil, about 2 tablespoons, for drizzling

coarse salt and freshly ground pepper, for seasoning
Directions
On a large platter, alternately layer the tomatoes, mozzarella and basil leaves in a circle, following the rim of your plate. Any extra can be stacked in the middle of the circle.
Season generously with the salt and pepper and finish off by drizzling the olive oil over the entire platter.
Serve at room temperature. Be sure not to refrigerate the tomatoes as this will cause them to get mealy in texture.