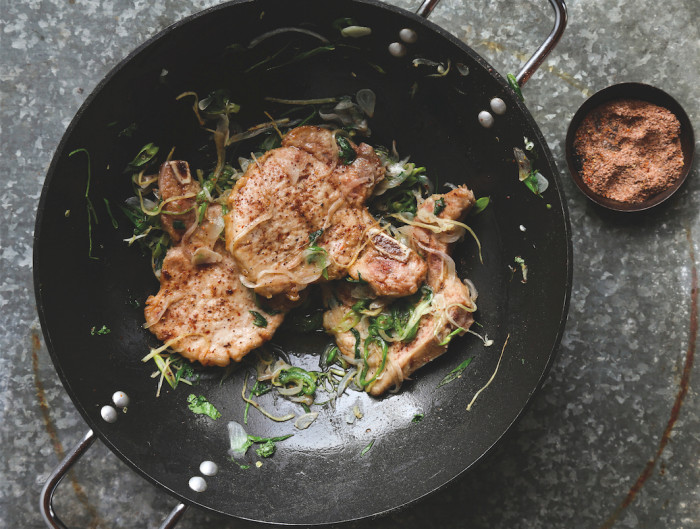 Atlanta chef Kevin Gillespie was born to cook pig — this we know. The Top Chef fan favorite and author of a couple of our favorite cookbooks (especially his latest, Pure Pork Awesomeness) is one porkmaster whose recipes you can depend on for a hearty, meaty, smoky meal. This recipe makes for light, spicy and delightfully aromatic pork chops that cook up quickly.
Hong Kong Harbor is a Chinese restaurant just down the street from Woodfire Grill, where I used to work in Atlanta. One of their best dishes is salt and pepper pork chops. The chops are flash fried, so bone-in, thin chops work better than thick ones and will give you the best flavor. The breading is two parts all-purpose flour, one part cornstarch, and one part rice flour. This gives you a light, crisp crust. I retested this a few times to get it just right, and I can tell you that the dish won't be the same without the Sichuan peppercorns. They add that tongue-numbing buzz to the spice rub. The stir-fried vegetables add crunch. The chiles bring the heat. And all these elements combine to make the dish work as a whole. Serve it with cooked white rice.
Ingredients
1/2

ounce

Facing Heaven dried chiles or chiles de árbol, about 1/2 cup (see note below)

2

tablespoons

Sichuan peppercorns

1

tablespoon plus 1 1/2 teaspoons

kosher salt

1

teaspoon

Chinese five-spice powder

About 1/2

cup

grapeseed oil or canola oil

1/2

cup

all-purpose flour

1/4

cup

cornstarch

1/4

cup

rice flour

4

bone-in pork rib chops, each about 2 ounces and 1/4 inch thick

1 1/2

cups

white onion, julienned

1

large onion

1

bunch

cilantro, leaves picked, about 20 (3-inch) stems reserved

3

large jalapeño peppers, thinly sliced into rings (about 1/4 cup)

6

cloves

garlic, thinly sliced (about 3 tablespoons)

3-inch piece of fresh ginger, peeled and finely julienned (about 3 tablespoons)

6

scallions, root and tough ends removed, very bias sliced (about 1 cup)
Directions
In a spice grinder or using a mortar and pestle, coarsely grind the chiles* and peppercorns. Add the salt and Chinese five-spice and grind to a powder.
Heat a 1-inch depth of oil in a wok or deep, heavy skillet to 350°F.
In a shallow bowl, whisk the all-purpose flour, cornstarch, and rice flour to combine. Pat the pork chops dry and cut in 1-inch intervals around the chop, through the outer layer of fat just down to the meat. (This helps keep the meat from curling up.)
One by one, dredge the chops in the flour mixture, shaking off any excess, and fry for 1 minute. Transfer the chops to a paper towel-lined plate and lightly sprinkle with the spice mix.
Carefully pour the oil from the wok or skillet, reserving and returning 1/4 cup back to the wok. Heat over high heat until just smoking. Have your vegetables ready to go; the cooking time here is very quick. Add the onion and cilantro stems to the wok and aggressively stir by holding a spoon in the center and shaking or rotating the wok or skillet vigorously quickly to mix everything together, about 20 seconds.
Continue cooking for 20 seconds after each addition, adding the jalapeño, garlic and ginger, then the scallions and reserved cilantro leaves, then the pork chops and 2 teaspoons of the spice blend. Serve immediately.
*Note: Facing Heaven chiles are common in Sichuan home cooking. When they grow on the plant, the peppers point towards the sky and look similar to red jalapeño peppers but are a bit longer. If you can't find them, the same amount of chiles de árbol makes a good substitute.
Whip up some more pork on Food Republic: