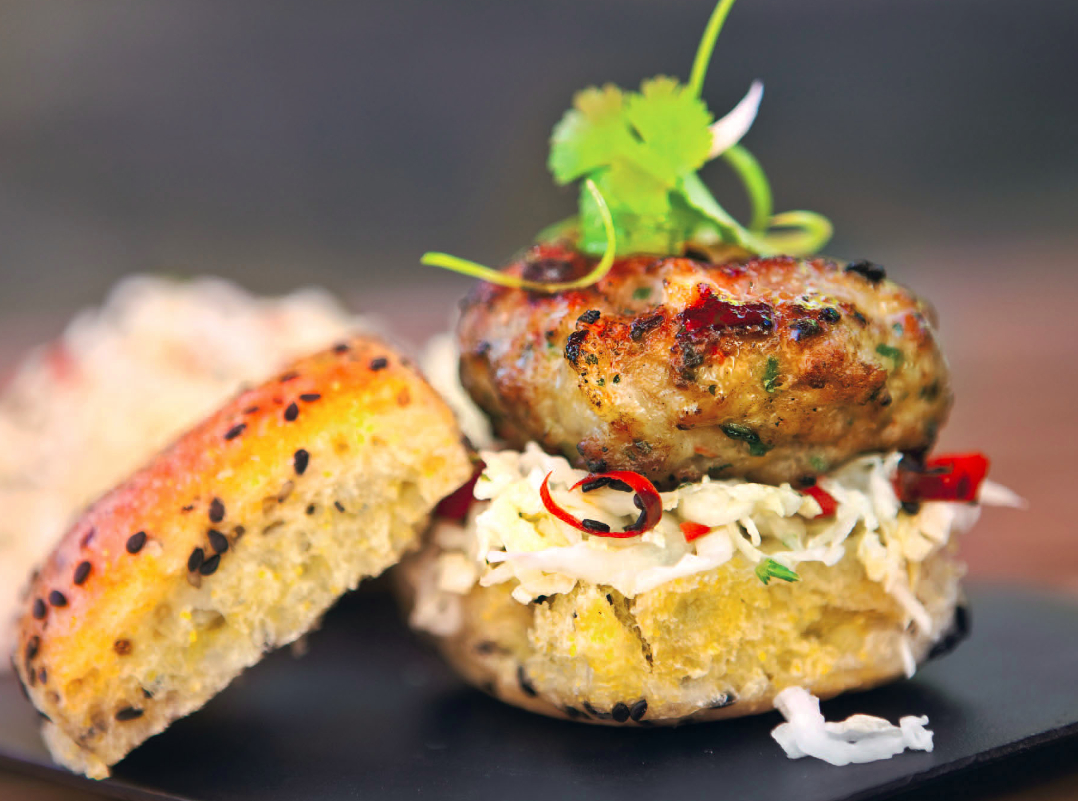 We love the New York Times food section, so we picked up a copy of The Essential New York Times Grilling Cookbook, with recipes from the past century (or so) of outdoor cooking. All your favorite authors contributed recipes, but we're crazy about this shu mai-style burger from Mark Bittman's The Minimalist For The Grill: Burgers Beyond The Basics.
"There are salmon and tuna burgers, and one could easily call a crab cake a crab burger. But because they lack fat, they make nice burgers but not crunchy-crusted, drip-down-the-chin ones. So why not take a cue from the shu mai dumpling, which mixes shrimp and pork? This gives you uncommon flavor in a burger — not only from the shrimp, but also from the combination of Asian ingredients — with adequate fat."
Reprinted with permission from The Essential New York Times Grilling Cookbook
Ingredients
1/2

pound

shrimp, peeled

2

medium cloves

garlic, peeled

1 1/2

pounds

boneless pork shoulder, with the fat, cut into 1-inch cubes

2

teaspoons

soy sauce

1/4

cup

scallions, chopped, plus more for garnish

1/4

cup

fresh cilantro, chopped, plus more for garnish

1

small

fresh chili, seeded and minced

1

tablespoon

fresh ginger, minced

Salt and freshly ground black pepper, to taste

shredded cabbage and pickled pepper for garnish (optional)
Directions
Heat should be medium-high and rack about 4 inches from fire.
Put shrimp and garlic in a food processor and pulse until just chopped; remove to a large bowl.
Working in batches, grind pork fat until just chopped (be careful not to overprocess). Add to bowl.
Then grind meat until just chopped, again being careful not to overprocess; add to bowl.
Mix shrimp, pork fat and meat with soy sauce, scallions, cilantro, chili and ginger; sprinkle with salt and pepper.
Shape into 8 patties.
Grill about 4 minutes, then turn and cook for a total of 8 to 10 minutes, or until nicely browned and cooked through.
Garnish with scallions, cilantro, cabbage and pickled pepper, to taste.
Find more Asian-influenced burgers on Food Republic: