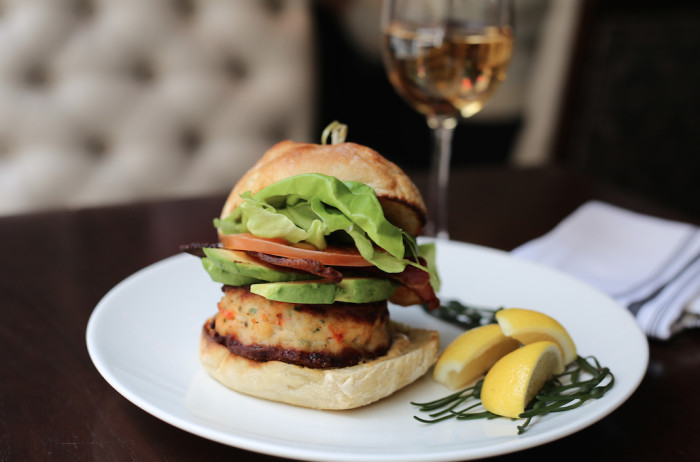 NYC steak and seafood hub The Wayfarer just launched a killer-looking burger menu, including a shrimp and lobster burger that any shellfish lover is going to love. Executive Chef Chris Shea loaned us the recipe for Burger Week to make sure no pescatarians felt left out of our weeklong celebration of glorious patties. 
This shrimp and lobster burger was inspired by a lobster steak dish prepared by Chef David Burke, whom I consider my mentor. I wanted to create something that reminded me of his dish, but with our own approachable take. While creating an entire burger menu at The Wayfarer, the idea of a seafood burger seemed perfect.
When preparing the burger patty at home, it's important to allow the mixture to "rest " and chill for at least a few hours before cooking. After cooking, allow it to rest a few minutes at the end. As these burgers are shellfish and the texture is so much different than meat, I also recommend using a digital thermometer to test for doneness (160F).
Ingredients
1

pound

shrimp, cleaned and tails removed

1/4

pound

butter

2

tablespoons

chopped chives

zest of 1 lemon

1/2

teaspoon

salt

1

teaspoon

ground black pepper

7-8

ounces

cooked lobster meat (the meat from 2 1 1/2-pound lobsters)
Old Bay Mayo
1/4

cup

mayo

1

tablespoon

Old Bay Seasoning

juice of 1 lemon

salt and pepper to taste
Fennel Slaw
2

cup

thinly shaved fennel (use a mandolin for best results and keep fennel in ice water until ready to mix the slaw)

1/2

cup

thinly sliced red onion

1/4

cup

parsley leaves

2

tablespoons

extra-virgin olive oil

2

tablespoons

lemon juice

Salt and fresh cracked pepper to taste
Directions
For the mayo
Combine all ingredients and set aside.
For the burgers
Blend the shrimp, butter, salt, pepper to a paste and then fold in the chives, lemon zest, and chopped lobster meat. Form into 4 6-ounce patties and refrigerate at least an hour before cooking.

Cook the patties over medium heat for about 5 minutes per side and continue cooking until the burgers reach a temp of 160 degrees.

Serve on a toasted buttered bun with old bay mayo, sliced avocado and fennel slaw.
For the slaw
When burgers are ready to serve, pat the fennel dry on some paper towel and then toss in a bowl with remaining ingredients.