Shrimp Cakes With Watermelon Hot Sauce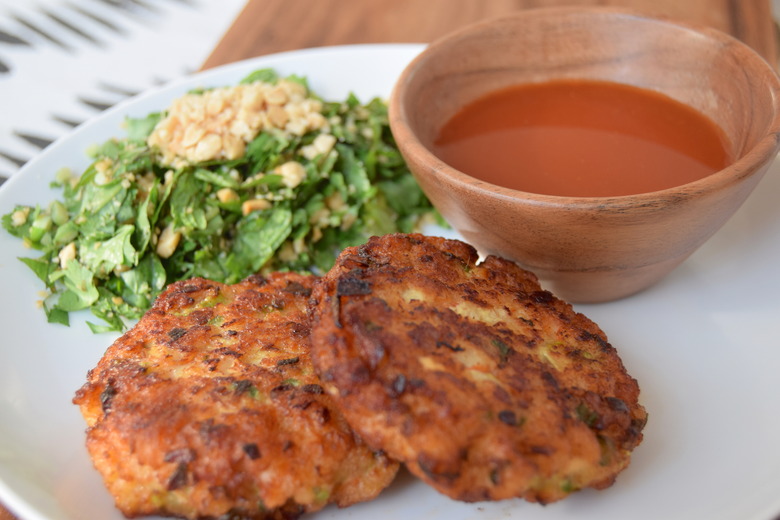 Sweet and fiery hot watermelon sauce is the perfect hit of spicy acidity for Thai shrimp cakes. (Photo: Paul Harriso
It happens to me every summer. I go to the store, see the watermelons and the voice in my head says, "Ooooooh, watermelon!" Then I buy a whole watermelon. It's not easy to eat a whole watermelon by yourself. Around the time the last quarter of it is left, that watermelon is probably getting close to its expiration date. I could cut it up and freeze it, but that's boring. And I don't really drink smoothies, anyway. But recently I found the answer to my predicament: hot sauce.
My favorite combination of flavors is spicy and sweet, so while this may seem a little out of left field, it's actually a totally logical combination. It also makes sense because watermelon with lime and salt is amazing, and adding a little heat to that (or a lot of heat) seems like the next natural step.
You can put this hot sauce on anything (it's particularly good on fish tacos), but this time around I put it on some Thai shrimp cakes — also a good idea. And I added a little herb salad in there, too, because, you know. We have to keep up appearances while eating spicy fried things.
Shrimp Cakes With Watermelon Hot Sauce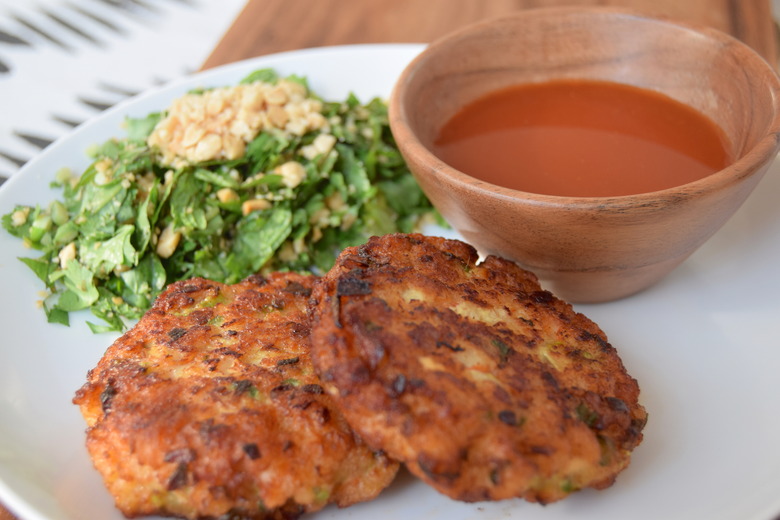 Ingredients
2 cups watermelon juice
2 large habenero peppers
12 cloves of garlic
4 tablespoons freshly squeezed lime juice
1/2 teaspoon finely ground white pepper
2 teaspoons white balsamic vinegar
2 teaspoons granulated sugar
1 pound shrimp
1/3 cup scallions
1/4 cup celery
1/2 cup shallot
2/3 cup panko bread crumbs
2 teaspoons lime juice
1 teaspoon fish sauce
2 teaspoons soy sauce
1 tablespoon minced garlic scapes (or regular garlic if you want)
1 egg
1 cup cilantro
1 cup mint
1 cup basil
1 cup crushed peanuts
1 tablespoon rice vinegar
1/4 teaspoon toasted sesame oil
1 lime
Directions
:::watermelon hot sauce:::
If you have a juicer, use it to juice the watermelon. If not, just use a blender.
Roughly dice the habaneros and garlic.
Add all hot-sauce ingredients to a pot and turn to medium heat. Simmer for 25-30 minutes. Remove from heat and strain. Set aside (you can store this in the fridge for about 10 days).
:::shrimp cakes and three-herb salad:::
Remove the shells and tails from the shrimp, and clean out the vein. Chop the shrimp until pieces are no bigger than a dime.
Mince the vegetables for the shrimp cakes.
Combine all shrimp cake ingredients and season generously with salt. Set aside.
Chop up the herbs for the salad and crush the peanuts, then toss together.
Heat a frying pan with ¼ cup of vegetable oil up to medium-high heat.
Form the shrimp cake mix into 8 patties. Fry 2-3 at a time until golden brown on each side (about 4-5 minutes each side). Remove from heat and set on paper towels or a cookie rack. Gently pat the extra oil off the top with some additional paper towel. While those cool, mix the dressing into the salad.
Top the cakes with a little bit of hot sauce (taste it first, it's spicy!) and serve alongside the salad.