Shrimp Burgers With Sweet 'N' Spicy Tartar Sauce Recipe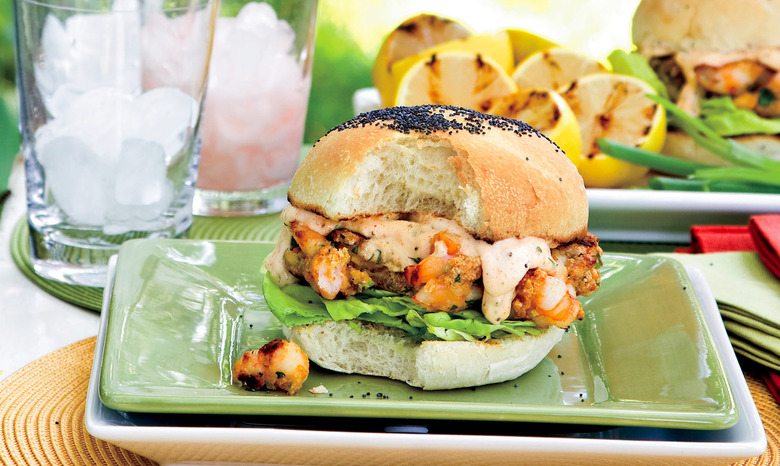 We may receive a commission on purchases made from links.
As host of Travel Channel's American Grilled, chef David Guas travels the country seeking backyard cooking's best and boldest flavors. In his new cookbook, Grill Nation, Guas shares the secrets he's learned along the way, offering pit-proven tips, techniques and delicious recipes for year-round smoking, grilling and barbecuing. A virtually encyclopedic guide, Grill Nation includes everything you need to master the flame and create flavorful home-cooked food. Dip your toes into Guas' immense pool of grilling knowledge with these big bold shrimp burgers.
Reprinted with permission from Grill Nation: 200 Surefire Recipes, Tips, and Techniques to Grill Like a Pro
Shrimp Burgers With Sweet 'N' Spicy Tartar Sauce Recipe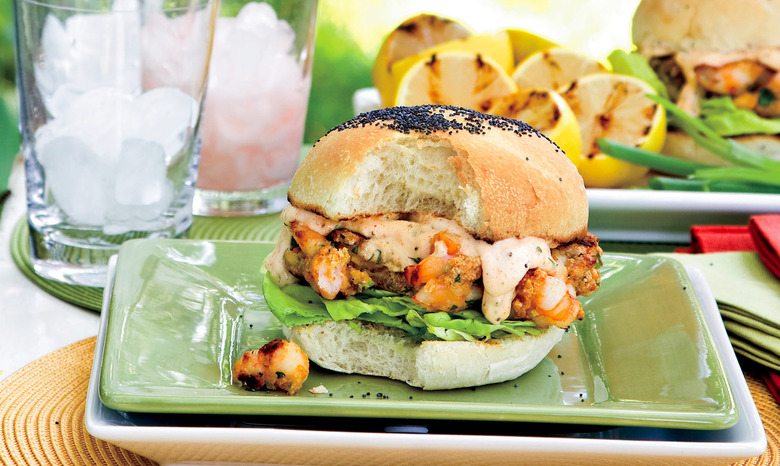 Ingredients
1 cup mayonnaise
2 tablespoons fresh parsley
2 tablespoons horseradish
1 1/2 teaspoons lemon juice
1/4 teaspoon paprika
1 1/4 pound unpeeled medium-size raw shrimp
vegetable cooking spray
1 large egg
1 tablespoon mayonnaise
2 teaspoons lemon juice
1/2 teaspoon salt
1/8 teaspoon ground red pepper
3 tablespoons celery
2 tablespoons green onion
1 tablespoon fresh parsley
1 1/4 cups cornbread crackers (about 1 sleeve or 24 crackers)
4 Kaiser rolls with poppy seeds
4 leaves Bibb lettuce
Directions
Stir together all ingredients.
Cover and chill for 30 minutes to 24 hours. Makes 1 cup of tartar sauce.
Peel the shrimp. Devein them, if desired. Cut each shrimp into thirds.
Line a 15 x 10 inch jelly-roll pan with aluminum foil. Coat with cooking spray.
Stir together egg, mayonnaise, lemon juice, salt and ground red pepper. Stir in the celery, green onion and parsley. Fold in the shrimp and cracker crumbs (the mixture will be thick).
Shape the mixture into 4 patties each 4 inches wide and 1 inch thick. Place the patties on the prepared pan.
Cover and chill for 1 to 24 hours. Transfer to the freezer and freeze for 30 minutes.
Coat cold cooking grate of grill with cooking spray, and place on grill. Light charcoal grill or preheat gas grill to 350°F-450°F (medium-high).
Grill the burgers, covered with the grill lid, for 4 to 5 minutes or until the burgers lift easily from the cooking grate using a large spatula. Turn the burgers, and grill for 4 to 5 minutes or until the shrimp turn pink and the burgers are cooked through and lightly crisp.
Grill the buns, cut sides down, for 1 to 2 minutes until lightly toasted.
Serve the shrimp burgers on the buns with the Sweet 'n' Spicy Tartar Sauce and Bibb lettuce leaves.
Barbecue Shrimp With Boiled Peanuts Recipe
Coconut Shrimp Salad With Spicy Mango & Cilantro Salsa Recipe
Mexican Shrimp Cocktail Recipe