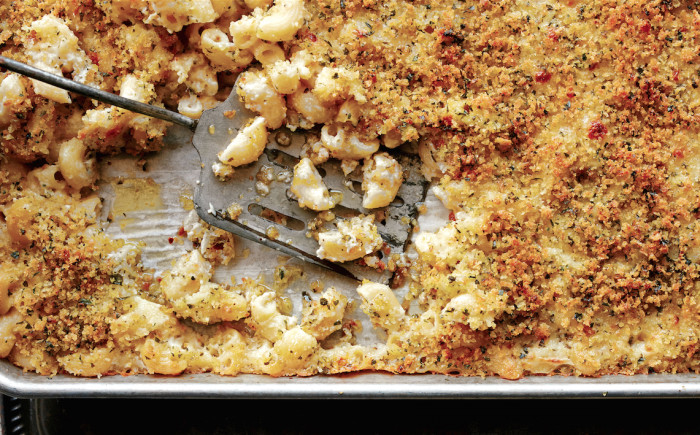 Every great bread-baking cookbook has a plethora of phenomenal recipes for enjoying the spongy, yeasty fruits of your labor. Food writer and recipe developer Alexandra Stafford's new book celebrates every part of bread-making, especially the crumbs. That's where this extra-crunchy sheet pan mac and cheese comes in. Try it tonight!
Who doesn't love the crunchy top layer of mac 'n' cheese? Baking this favorite dish in a sheet pan ensures a high ratio of crispy topping to creamy noodles. In this version, a layer of golden bread crumbs enshrouds blistered cubes of mozzarella, which stretch with every pull of the fork, clinging to the noodles trailing in its wake. This mac 'n' cheese can be cut into squares like sheet-pan pizza and needs nothing more than a simple green salad on the side.
Ingredients
12

ounces

elbow macaroni

8

tablespoons

unsalted butter

1/4

cup

unbleached all-purpose flour

2

cups

whole milk

1

teaspoon

kosher salt, plus more to taste

Freshly cracked black pepper to taste

3

cups

lightly packed fresh bread crumbs

1/2

cup

finely chopped fresh parsley

2

cloves

garlic, finely minced

1 1/2

cups

grated Parmigiano-Reggiano

8

ounces

fresh mozzarella, diced
Directions
For the mac
Preheat the oven to 425°F. Bring a large pot of salted water to a boil over high heat. When the water is boiling, add the macaroni and cook for 5 minutes. Drain, but do not rinse. Set aside.

In the same large pot, melt 4 tablespoons of butter over medium-high heat. Add the flour, whisking constantly for about 1 minute. Add the milk and 2 cups water, whisking to pull up anything stuck to the bottom of the pan. Bring it to a boil, then reduce the heat to low. Add 1 teaspoon salt and pepper to taste. Simmer until the mixture begins to thicken — it should coat the back of a spoon — about 20 minutes. Remove the pot from the heat. Taste the béchamel and add more salt if necessary.

Meanwhile, melt the remaining 4 tablespoons of butter on the stovetop or in the microwave. Combine with the bread crumbs, parsley, and garlic in a medium bowl. Season with a pinch of salt and pepper to taste.

In a separate large bowl, toss the cooked macaroni with the grated Parmigiano-Reggiano. Add the béchamel and toss to coat.

Line the bottom of a rimmed sheet pan with parchment paper and spread the macaroni mixture on top. Scatter the mozzarella cubes around and top evenly with the bread-crumb mixture. Transfer the pan to the oven and bake the mac 'n' cheese for 25 to 30 minutes, until the top is golden and the macaroni is bubbling. Remove the pan from the oven and let the mac 'n' cheese sit for 10 minutes before serving.