How To Make Shake Shack's ShackMeister Burger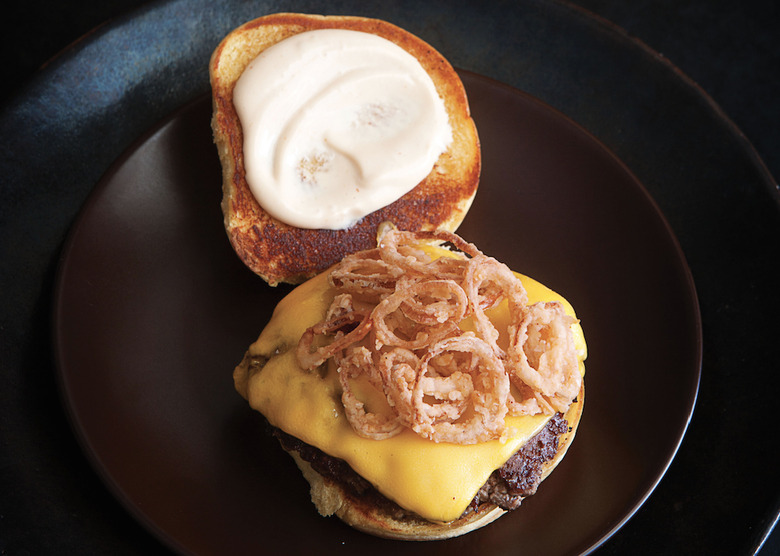 We may receive a commission on purchases made from links.
We're crazy-excited about Shake Shack's juicy new cookbook, out just in time for National Burger Day and Food Republic's own Burger Week. We've waited in the lines, tried everything on the menu and dutifully (and proudly) touted the perfection of Shake Shack's simple fare to out-of-state family and friends. And now, we can all recreate these magnificent patties at home. Learn how to make a ShackMeister Burger with bacon, fried shallots and the creamy glory that is Shack Sauce.
Where do our burger ideas come from? The idea for our ShackMeister burger was born to compete at the annual Burger Bash at the South Beach Wine & Food Festival in Miami. Not surprisingly, every one of us had an opinion. Ultimately, good old-fashioned comfort and simplicity triumphed. We went with our simplest burger. And we won!
How To Make Shake Shack's ShackMeister Burger
Thanks to the new Shake Shack cookbook, we can all recreate these famous patties at home! Try a ShackMeister Burger on for size.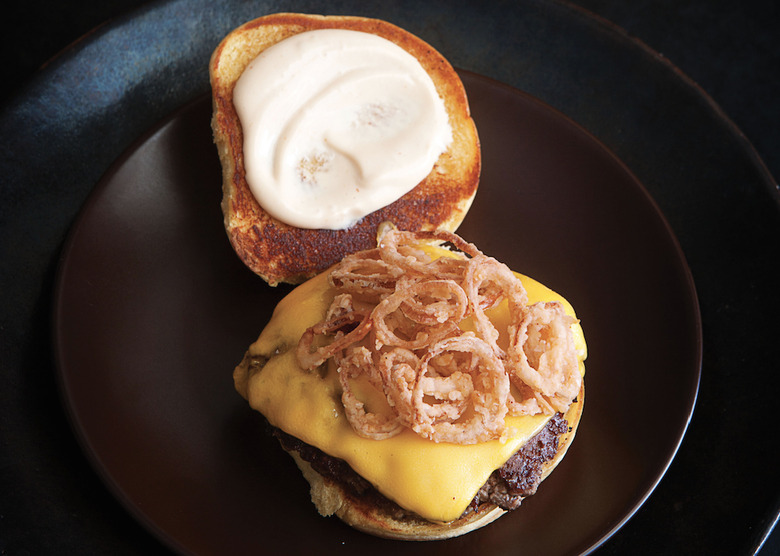 Ingredients
4 hamburger potato buns
4 tablespoons unsalted butter
4 tablespoons ShackSauce
1 pound very cold ground beef
1/2 teaspoon Our Salt & Pepper Mix
4 slices American cheese
4 ounces ShackMeister Fried Shallots
1/2 cup Hellman's mayonnaise
1 tablespoon Dijon mustard
3/4 teaspoon Heinz ketchup
1/4 teaspoon kosher dill pickling brine
Pinch cayenne pepper
1/2 cup kosher salt
1/2 teaspoon freshly ground black pepper
1/2 pound shallots
1 teaspoon freshly ground black pepper
1 1/2 cups ShackMeister or other ale
1 1/2 cups flour
canola oil for frying
salt
Directions
:::salt and pepper mix:::
Mix salt and pepper and store.
:::ShackSauce:::
Mix all ingredients together and store.
:::shallots:::
Put the shallots, ½ teaspoon of the pepper, and ale into a bowl. Cover and marinate in the refrigerator for at least 12 hours and up to 24 hours.
Mix together the remaining ½ teaspoon pepper with the flour in a wide deep dish. Strain the marinated shallots, discarding the marinade.
Pour the oil into a deep pot to a depth of 3 inches. Heat over medium heat until the oil reaches a temperature of 350°F on a candy thermometer. Meanwhile, working in batches, dredge the shallots in the seasoned flour until evenly coated. Transfer them to a sieve, and shake off excess flour.
Working in small batches, deep-fry the shallots in the hot oil, turning them halfway through, until golden and crisp, about 1½ minutes. Transfer them with a slotted spoon to drain on paper towels. Season with salt.
:::burger:::
Heat a cast-iron griddle over medium-low heat until warm. Meanwhile, open the hamburger buns and brush the insides with the melted butter. A soft brush is helpful here. Place the buns buttered side down on the griddle and toast until golden brown, 2 to 3 minutes. Transfer buns to a plate. Spoon the sauce onto the top bun. Add a piece of the lettuce and two slices of tomato.
Increase the heat to medium and heat the griddle until hot, 2 to 3 minutes.
Evenly sprinkle a pinch of Our Salt & Pepper Mix on top of each puck of meat.
Place the pucks on the griddle, seasoned side down. Using a large, sturdy metal spatula, firmly smash each puck into a 1/3-inch-thick round patty. Pressing down on the spatula with another stiff spatula helps flatten the burger quickly. Evenly sprinkle another big pinch of Our Salt & Pepper Mix.
Cook the burgers, resisting the urge to move them, until the edges beneath are brown and crisp, and juices on the surface are bubbling hot, about 2½ minutes. Slide one of the spatulas beneath the burger to release it from the griddle and scrape up the caramelized browned crust. Use the other spatula to steady the burger and keep it from sliding. Flip the burgers. Put the cheese on top and cook the burgers 1 minute longer for medium. Cook more or less depending on your preference.
Transfer the cheeseburgers to the prepared buns, top with Fried Shallots and enjoy.