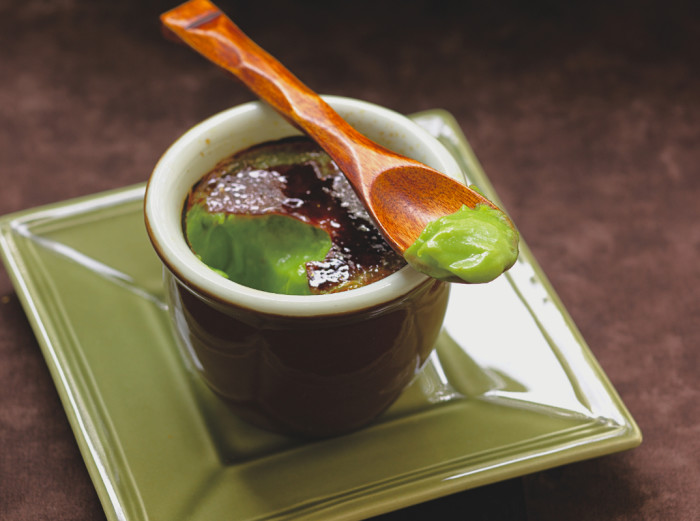 Cookbook author Leticia Schwartz updates the classic French crème brûlée recipe with something a little greener: Ever had avocado in your dessert? Can you think of a better way to get started? By the way, you'll need a torch. In restaurant supply stores, ask for a brulée torch; in a hardware store, a mini-torch.

Most Americans think of only guacamole, salads and maybe the adventurous hamburger when it comes to avocado. I really love to use avocados in desserts, the way we do in Brazil. The buttery texture of avocado lends a perfect creaminess to this reinvented crème brûlée, which, unlike the classic recipe, is not baked at all. This mixture of avocado and condensed milk is simply pureed in a food processor.

After you have simulated the consistency of a custard, you add a crunchy layer of burnt sugar on top immediately before serving. The result is a truly inspired dessert that takes less than five minutes to make plus a little chilling time. Because of its richness, this dessert can also act as a mini crème brûlée: Simply serve it in smaller ramekins. This will yield more servings, of course, depending on how small a ramekin you use.
Ingredients
1

cup

sweetened condensed milk

2

medium-firm ripe Hass avocados, peeled, pitted and cut into chunks

2 to 3

tablespoons

fresh lemon juice

1/2

cup

sugar, for topping
Directions
For the crème brûlee
Place the condensed milk and avocados into a food processor and process until the mixture is velvety smooth, 1 to 2 minutes. Add the lemon juice 1 tablespoon at a time, and pulse for a few more seconds after each addition.

At this point, taste the avocado cream to check if the lemon juice is giving the right balance. I usually use 2 tablespoons of fresh lemon juice and add a drop or two more, if necessary.

Using a rubber spatula, scrape the mixture into four ramekins, making sure it is nice and flat inside the ramekin. Chill for 4 hours in the refrigerator.

Right before serving, spread a thin layer of sugar evenly over the top of each custard.

Ignite the torch to medium. Melt the sugar by moving the flame back and forth across the custard while maintaining a distance of 2 inches between the flame and the surface. The sugar will melt, bubble, then turn into a golden caramel. In less than a minute, it will harden to a delicious crust. Allow to cool for 3 to 5 minutes before serving. Do not brûlée the dessert more than 20 minutes in advance of serving.