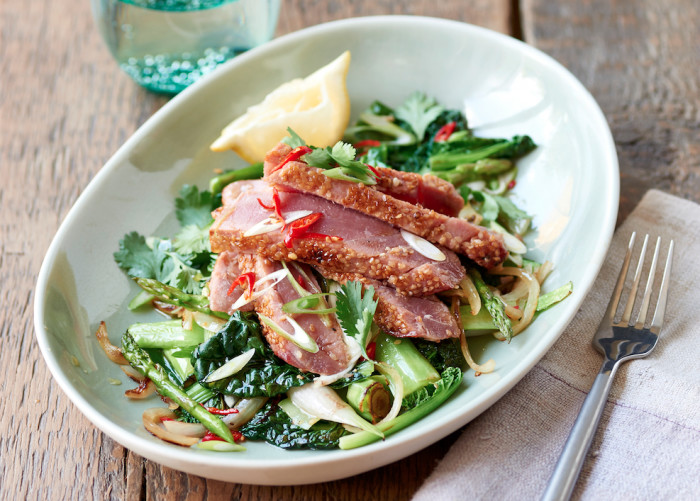 You don't have to commit to the paleo diet full time to reap its nutritional and weight-loss benefits. Pick up a copy of healthy-eating expert Daniel Green's new cookbook, Paleo Monday to Friday.

Sesame with tuna is one of those classic flavor combinations that I turn to again and again. I love sesame oil, too, but it has such a strong, distinctive flavor that a little goes a long way.
Ingredients
6

tablespoons

sesame seeds

4

6-ounce

tuna steaks

2

tablespoons

olive oil

1/2

large yellow onion, thinly sliced

8

asparagus, trimmed and sliced into 2-inch pieces

About 5

cups

fresh spinach

juice of 1/2 lemon

1

small red bird's-eye chili, very finely chopped (retain the seeds for extra heat)

1

tablespoon

sesame oil

sea salt and freshly ground black pepper

4

scallions, finely sliced

A

handful

fresh cilantro
Directions
For the tuna steak
Spread the sesame seeds out over a large plate and then, one at a time, press both sides of the tuna steaks down firmly onto the plate so the seeds stick on all sides.

Heat 1 tablespoon oil in a large nonstick frying pan, and when hot, sear the tuna steaks for 1 to 2 minutes on each side. Take the tuna out of the pan and set aside.

Heat the remaining oil in a large wok and cook the onions for 2 minutes, then add the asparagus and stir-fry for an additional few minutes.

Now add the spinach and stir until it wilts, then add the lemon juice and take off the heat.

Add the chile and sesame oil and mix well, then season to taste.

Divide the wok-fried vegetables between four serving plates. Arrange the tuna on top and sprinkle with scallions and cilantro to garnish.