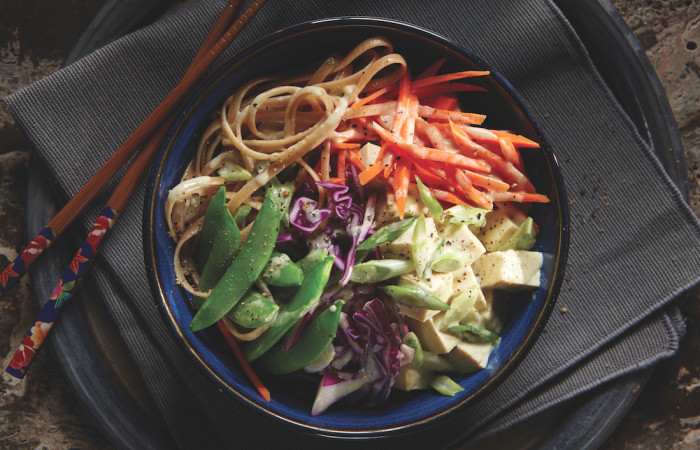 Unless you've been completely checked out for the past few years, you've noticed that the humble bowl has been elevated to more of a "large holy grail" when it comes to healthy cooking, fast-casual dining and all-in-one meals. Cookbook author and chef Robin Asbell is on it with a new collection of recipes that has everything you want (and more), all in one simple vessel. 

Coconut milk is the magic ingredient in this bowl; it makes a sauce in one quick step. Just heat the coconut milk with some curry paste and a few other ingredients, and suddenly you have a rich, complex feast of Thai essential tastes. Whole-wheat linguine, or any noodle, is fantastic when coated with this lush sauce and topped with crunchy vegetables.
Ingredients
1

14-ounce package

firm tofu

3/4

cup

coconut milk (half a 14.5-ounce can)

1

tablespoon

green curry paste

2

teaspoons

fish sauce

1

tablespoon

brown sugar

8

ounces

snap peas, trimmed

1

large carrot, julienned

8

ounces

whole-wheat linguine

1

tablespoon

toasted sesame oil

2

cups

red cabbage, shredded

Slivered scallions, for garnish
Directions
For the noodles
Put on a pot of water to cook the pasta. Meanwhile, drain the tofu and wrap in a towel, then place a cutting board on top to remove excess water, for about 20 minutes.

Cube the tofu in 3/4-inch pieces and reserve. In a large sauté pan, combine the coconut milk and green curry and mash with a spatula to combine. Place over medium heat and bring to a simmer; stir in the fish sauce and brown sugar. Add the tofu and carefully turn to coat. Let simmer, stirring and turning occasionally, for about 5 minutes, until the coconut milk is thick.

In the boiling water (before the pasta goes in), poach the snap peas for just a minute, then scoop out with a slotted spoon and reserve. Poach the carrots for about a minute, scoop and reserve. Cook the linguine according to package directions, about 4 minutes, and drain well. Transfer to a bowl and toss with sesame oil to coat.

In each of four bowls, portion the cooked linguine, then top with snap peas, carrots, red cabbage, and the tofu and sauce from the pan. Garnish with scallions and serve hot.