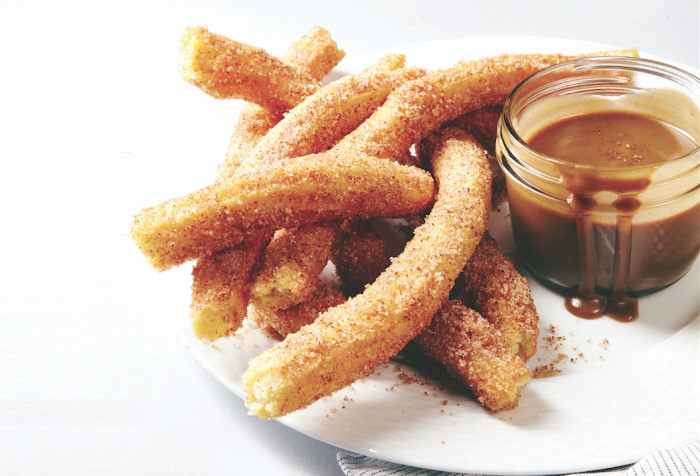 Bring out the sensual side of baking with pastry chef and food writer Malika Ameen's new cookbook. Her South Asian heritage is a key inspiration for the earthy flavors, herbs, spices and ingredients found in her award-winning recipes. Bake outside your comfort zone with Sweet Sugar, Sultry Spice, and make these crunchy semolina churros.
Sticky toffee pudding is my most famous — or most infamous — dessert. The recipe for that moist cake with sweet dates and deep, dark toffee sauce has traveled with me from New York to Los Angeles to Chicago, and it has devoted fans in every city. Now I want to share the secret with you: it's all about the sticky toffee sauce. These churros re-create the flavors of the original cake with date sugar and orange zest, and the semolina gives them an amazingly crispy texture. But the sticky toffee sauce with vanilla is the star. Use the best quality vanilla bean you can find.
This is a recipe where it's worth the splurge for that wallop of fragrant vanilla. This sauce is so intoxicating you'll find yourself licking the bowl clean. When I owned a restaurant in Chicago, one couple admitted to me that the sticky toffee pudding was part of an evening ritual that ended with — well, you know. And, yes, it's that good.
Make Ahead: The mixed churro dough can be refrigerated for up to 2 days. Allow it to come to room temperature before continuing the recipe.
Ingredients
1/3

cup

fine semolina (not semolina flour)

2/3

cup

all-purpose flour

1

cup

water

3

tablespoons

whole milk

1

tablespoon

unsalted butter

1/2

cup plus 1 tablespoon

granulated sugar, divided

1

teaspoon

kosher salt

1

large egg

1/2

teaspoon

vanilla extract

3/4

teaspoon

finely grated orange zest

1/4

cup

date sugar

1/4

teaspoon

ground Vietnamese cinnamon
Sticky Toffee Sauce
1

vanilla bean

6

tablespoons

unsalted butter

1

cup plus 2 tablespoons

heavy cream

1/2

cup plus 2 tablespoons

firmly packed dark muscovado sugar or dark brown sugar

1/8

teaspoon

kosher salt

1/3

cup

creme fraiche

2

quarts

peanut oil
Materials
Deep-fry/candy thermometer, 1/4-inch star tip
Directions
For the churros
Sift together the semolina and all-purpose flour into a small bowl.

In a medium saucepan, combine water, milk, butter, 1 ta­blespoon of the sugar, and the salt. Cook over medium-high heat until it comes to a boil. Remove the pan from the heat and immediately add the combined flours. Stir vigorously with a wooden spoon until the mixture is smooth and lump free. The dough will have the texture of a thick paste.

Transfer the dough to the bowl of a stand mixer fitted with a paddle attachment. Beat on low speed for 1 minute. The dough will release steam and cool slightly. Add the egg, vanilla, and orange zest and beat on medium speed until well incorporated, scraping down the sides of the bowl as needed. Cover the dough with a piece of plastic wrap pressed directly to its surface and refrigerate just until cooled to room tem­perature, about 15 minutes. In a small bowl, whisk together the remaining ½ cup of granulated sugar and the date sugar and cinnamon, then pour onto a shallow plate or pie tin and set aside. Make the toffee sauce while the dough is cooling.
For the sauce
Slice the vanilla bean lengthwise and scrape out the seeds. Discard the pods or set aside for another use. In a medium saucepan, combine the butter, cream, sugar, vanilla bean seeds, and salt. Bring to a boil over medium-high heat, whisking frequently, and then reduce heat to low and simmer for 3 minutes. Remove from the heat, whisk in the crème fraîche, and allow to cool.
For the frying
Once the churro dough has cooled, pour the peanut oil into a large heavy-bottomed saucepan. The oil should be at least 2 inches deep. Using a candy thermometer to mea­sure the temperature, heat the oil to 350˚F.

Fill a large piping bag fitted with a ¼-inch star tip with churro dough. (You could also use a quart-size ziplock plastic bag and snip off one corner.) Pipe the churro dough directly into the hot oil, using kitchen scissors to snip off 4-inch lengths. Cut the dough at an angle. Work in batches, about 7 churros per batch. Fry each batch of churros, turn­ing them often with tongs, until deep golden brown, 6 to 7 minutes. Remove the churros from the hot oil with your tongs. Drain for a few seconds on a stack of paper towels to absorb the excess oil, then roll the hot churros in the pre­pared plate of cinnamon sugar. Serve immediately with the toffee sauce on the side for dipping.