Seasonal Chopped Salad Recipe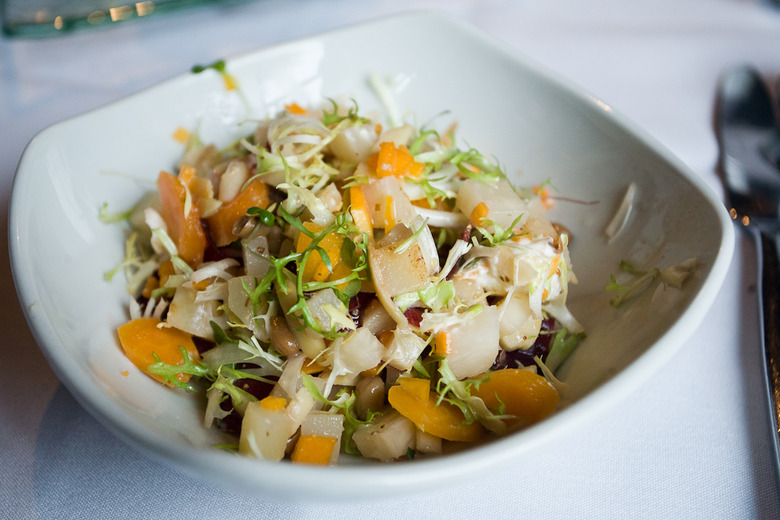 At farm-to-table temple The Dressing Room in Westport, CT this salad changes six times a year with fall ingredients, including sweet potatoes and parsnips. But no matter the seasonal produce, there's always a nut, friseé and creamy goat cheese — a wonderfully creamy combination. If you can't find sea island peas, black-eyed peas will work as well.
Seasonal Chopped Salad Recipe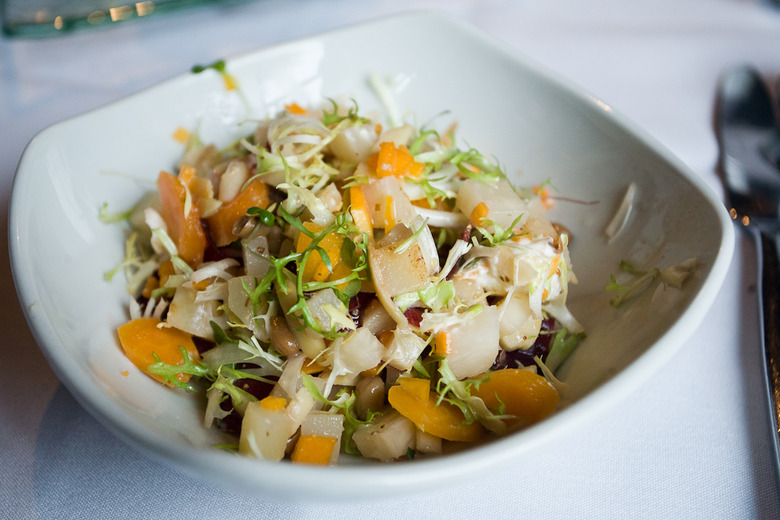 Ingredients
1/3 cup white wine vinegar
1/2 pound baby carrots
1/2 pound celeriac
1/2 pound sweet potatoes
1/2 pound parsnips
1/2 pound sunchokes
2 apples
1/2 pound friseé lettuce
3 tablespoons parsley
3 ounces goat cheese
1 tablespoon mustard
3 ounces lemon juice
1/4 cup sea island peas
1/4 cup roasted almonds
2 cups canola oil
Directions
Blanch the vegetables individually, chill and set aside. In a medium-sized saucepan, bring the vinegar to a simmer over medium heat, add the chopped vegetables, remove from the heat and set aside. 
Strain the chilled vegetables through a sieve. Reserve the vinegar and the vegetables separately.
In a large bowl, mix together the apple, frisee, parsley and goat cheese.
Add the reserved vinegar, mustard, lemon juice and canola oil and toss well. Season to taste with salt and pepper.
Add the peas and almonds to the bowl and toss to mix.
Divide the salad among 12 small bowls or plates.