Veg Out: Seared Avocado With Fried Lentils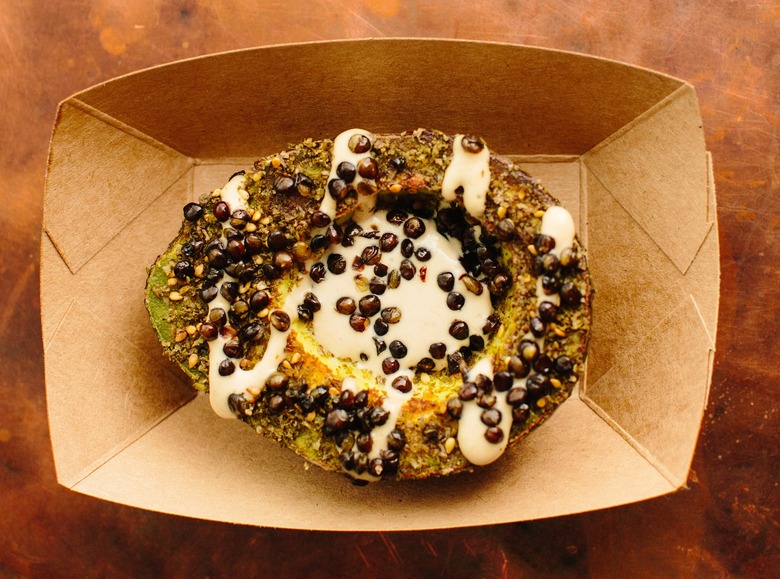 Last week, we hosted a Facebook Live with Boston chef Rebecca Arnold, owner of vegetarian/vegan fast casual joint Whole Heart Provisions. She blew our minds with one of the most popular dishes on the menu: seared avocado with fried lentils, drizzled with a tangy, savory tahini sauce. It's a hearty vitamin and protein-packed lunch that's big on flavor and low on impact.
Veg Out: Seared Avocado With Fried Lentils
Rebecca Arnold blew our minds with one of her most popular dishes: seared avocado with fried lentils, drizzled with a tangy, savory tahini sauce.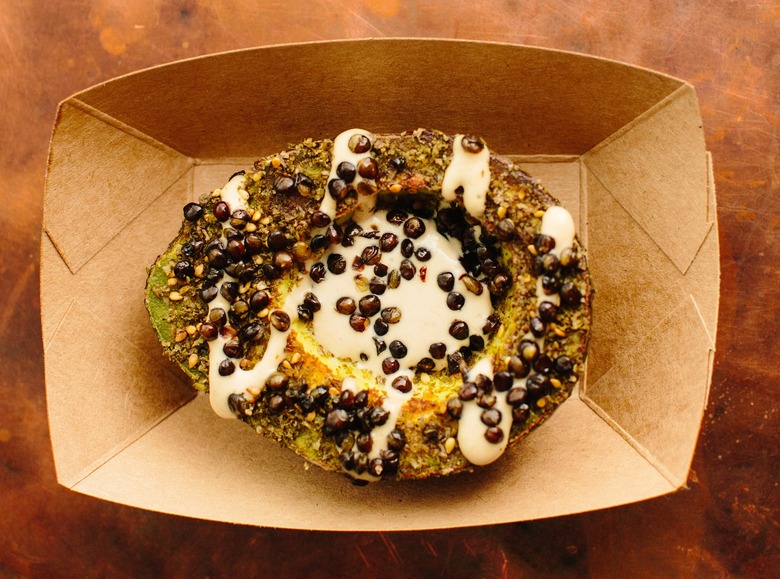 Ingredients
2 ripe avocados
1 tablespoon salt
3 tablespoons grapeseed oil or olive oil
4 tablespoons za'atar
1/2 cup Crispy Lentils
1 lemon
1/2 cup tahini sauce
1/2 cup tahini paste
1 clove garlic
1 teaspoon cumin
2 teaspoons mushroom powder (Dehydrated and ground shiitake mushroom, for savory umami flavor. Could substitute miso paste or salt here)
1/2 cup water
1/4 cup lemon juice
1/2 cup black beluga lentils
3 quarts water
2 cups canola oil
Directions
:::lentils:::
Bring water to a boil in a 5 quart (or larger) saucepot.
Add lentils to boiling water.
Boil for 10 minutes.
Strain immediately and let lentils cool about 2 minutes.
In cleaned saucepot add oil and heat to 350 degrees, using a fry thermometer to check temp.
Fry lentils in two batches in hot oil for about 4-5 minutes, or until bubbles cease and lentils are nice and crispy. Remove lentils from oil with a fine mesh spider and drain on a plate lined with a paper towel.
Store once cool in a dry container (will last about 2 weeks.)
:::tahini:::
Blend all together in blender or with a stick blender.
Adjust lemon juice and mushroom powder/miso to taste.
If sauce is too thin add more tahini. If sauce is too thick add more water.
:::avocado:::
Heat saute pan over medium high heat until hot and lightly smoking.
Cut each avocado in half and remove pit.
Sprinkle salt generously over all 4 halves, then turn over to remove excess salt.
Add olive oil to saute pan.
Place avocados cut side down onto hot pan and weigh down with another pan with a few full cans or bottles in it (just to weigh down the avocados).
Cook over medium high heat for 2-4 minutes until the cut side is a dark golden brown and has developed a nice crust.
Place avocado seared side up on a plate.
Squeeze lemon juice over each avocado half.
Sprinkle each avocado half with about 1 tablespoon of za'atar- it should coat the entire cut side of the avocado.
Add a pinch of crispy lentils into the avocado hole.
Fill hole with tahini sauce, and drizzle over the rest of the avocado in a zigzag pattern.
Sprinkle more crispy lentils over the top of the avocados.
Serve warm with a spoon for scooping! Enjoy!