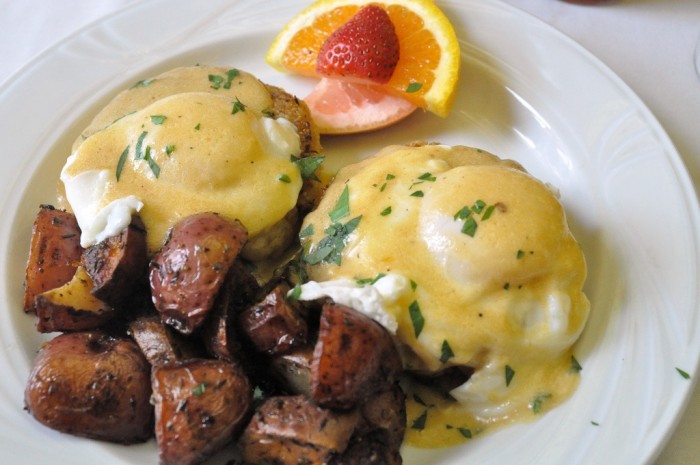 Once you've mastered a basic hollandaise sauce you can create endless versions of this breakfast favorite. This one is for you seafood lovers and is a perfect way to celebrate Mother's Day this weekend.
Ingredients
12

eggs

1

to 2 tablespoons

vinegar

12

slices

ciabatta bread, or 6 cut in half if they are large

unsalted butter, for spreading

6

tablespoons

cream cheese

12

spears

asparagus, cut in half and steamed until fork tender

1/2

lemon, zested

1

1/2 cups

jumbo lump crabmeat, picked and divided into 12 portions

12

slices

smoked salmon

12

large

shrimp, cooked, completed peeled and deviened

, to taste

12

sprigs

dill, about 2- inches long

1

recipe

hollandaise sauce
Directions
In a large pot of boiling water add the vinegar. Turn the heat down to a low simmer. Crack the eggs one at a time, into a small bowl and add them one at a time very gently into the simmering water. Cook for 3-5 minutes until the egg is completely coagulated and the yolk looks slightly opaque. Remove from the water.
Meanwhile, butter the ciabatta on both sides and place in a pan or a on a griddle to lightly toast.
Top each piece the with a smear of cream cheese. Top each with 2 pieces of asparagus. Top the asparagus with a scoop of crabmeat and a piece of smoked salmon. Place the poached egg on top.
Top each egg with a shrimp and drizzle with the hollandaise. Season with the salt and pepper. Garnish with the dill and the lemon zest.