Sea-Salt Chocolate And Pecan Tart Recipe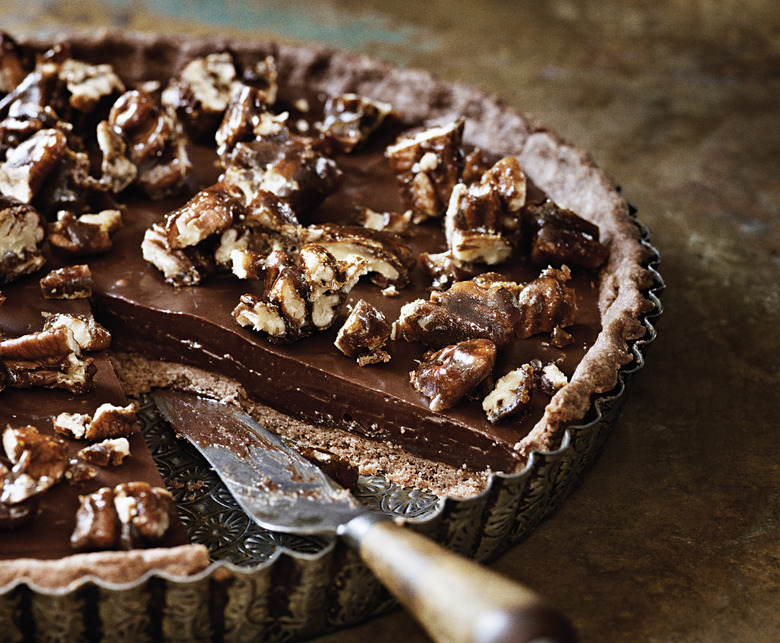 We may receive a commission on purchases made from links.
Master chocolatier Paul A. Young took home the gold medal for his book, "Adventures With Chocolate," winning Gourmand World Cookbook Awards' "Best Chocolate Book in the World." That's a strong statement.
"Definitely one for a special dinner party," says Young, who has cultivated a love affair with the dark, sweet stuff since he was a boy. "With its sophisticated, sweet chocolate pastry crust, unctuous ganache filling, and caramelized salted pecans, this tart will stop all conversation for all the right reasons."
Sea-Salt Chocolate And Pecan Tart Recipe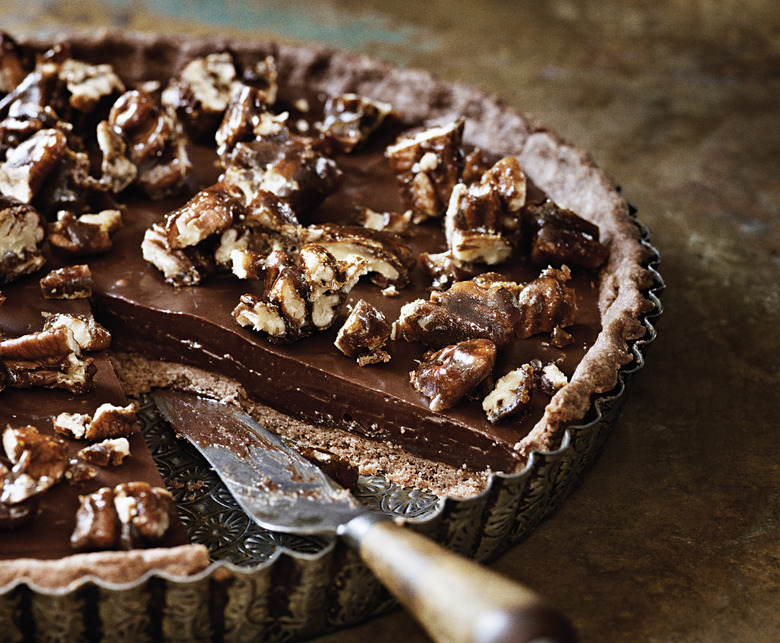 Ingredients
12 tablespoons unsalted butter
1/3 cup organic sugar
2 large organic egg yolks
1 3/4 cup all-purpose flour
3 tablespoons alkalized cocoa powder
7 ounces Madagascan 64% dark chocolate
1 cup muscovado sugar
3/4 cup heavy cream
1 tablespoon flaky sea salt
1/2 cup granulated sugar
1 teaspoon Maldon sea salt
1 cup pecan halves
Directions
Cream together the butter and sugar with a wooden spoon until light and creamy. Add the egg yolks and 2 tablespoons water and mix well until all the liquid has been incorporated.
Gradually add the flour and cocoa powder until a paste is formed. This can all be done in an electric mixer or food processor if you prefer.
Wrap the pastry in plastic wrap, flatten into a disk, and refrigerate for 1 hour. The pastry can be made 2 days ahead, or even longer since it freezes well, though in this case, thaw and knead the pastry to soften it before rolling.
Sprinkle the work surface with flour and roll out the pastry until it is about 2 inches bigger than your tart pan. I recommend using a ring that is 10 inches in diameter and 1 inch deep.
Carefully line the pan, pushing the pastry well into the bottom edges and folding the excess over the top. Trim off the excess. Refrigerate for 15 minutes to relax the pastry and to help prevent it from shrinking during cooking.
Preheat the oven to 350°F. Line the tart with a sheet of parchment paper – scrunch it up first to soften it – then fill with dried beans, lentils, or raw rice, bake blind for 20 minutes.
Lift out the beans and bake for 5–8 minutes more, until the shell is dry. Allow to cool.
Put all the ingredients in a heatproof mixing bowl – place it over a pan of very hot water and allow them to melt together until glossy and thick.
Pour into the cooled, baked crust and refrigerate for 2 hours.
Heat a saucepan until warm and gradually add the sugar, stirring until you have a golden liquid caramel. Add the salt and mix well. Pour in the pecans and, mixing thoroughly, quickly pour the mixture onto a parchment paper and spread out with a spatula.
Allow to cool thoroughly, then break or chop up into shards or chunky pieces to sprinkle over the ganache.
Cut the tart with a hot, wet knife for perfect, restaurant-quality slices.