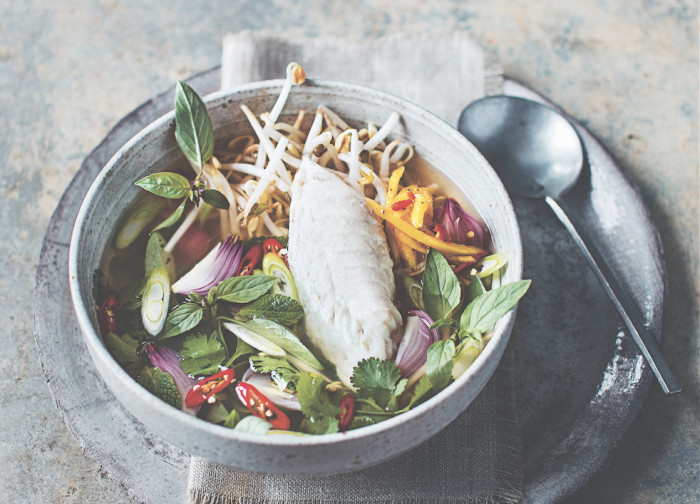 Healthy soup is one of the most efficient and delicious ways to get lots of vital micronutrients in your system. Join blogger Kathryn Bruton and explore the world of skinny soups that are big on flavor, low in fat and beautiful to behold. This sea bream and coconut soup is an instant winner.
While in Cambodia, I ate the most unusual crab and lime soup. It was like nothing I had ever tasted — its vibrancy and clarity snapped my senses awake. This recipe is a nod to that memory.
Note: Kaffir lime leaves can be found online or in Asian supermarkets, often in the freezer section. If you can't find any fresh or frozen, many big supermarkets stock dried leaves.
Ingredients
2 3/4

cups

coconut water

3

stalks

lemongrass, bruised and cut into 3/4-inch lengths

5

kaffir lime leaves

4

garlic cloves, peeled

8

Asian shallots, peeled and quartered

2

tablespoons

ginger, peeled and sliced

2

tablespoons

fish sauce

1

sea bream or sea bass (approximately 18 ounces to 1 1/2 pounds), gutted and cleaned

4

red bird's eye chilies, 1 halved, others finely sliced

1/2

cup

each Thai basil, mint and cilantro, leaves picked

3

scallions, thinly sliced

2

cups

bean sprouts

Juice of 3 limes
Mango Relish
1/2

mango, peeled and shredded

1

red bird's eye chili, finely chopped

1/2

tablespoon

fish sauce

1/2

teaspoon

black pepper
Directions
For the broth
Place all of the ingredients up to and including the sea bream and the halved bird's eye chili with 4 cups of water in a deep, heavy-bottomed saucepan wide enough to hold the fish lying flat. Bring to a simmer and cook for 15 minutes.

Meanwhile, make the mango relish: Combine all ingredients, mix well, and taste for seasoning. Divide the finely sliced bird's eye chilies between four bowls, along with the herbs, scallions, and bean sprouts. When cooked, remove the fish from the broth, peel away the skin, and carefully remove the white flesh from the bones. Divide between the bowls.

Stir the lime juice through the broth, and taste for seasoning. If needed, add a dash of fish sauce. Strain and pour over the ingredients in each bowl. Garnish with the mango relish and serve immediately.