Scotch Fillet With Okra And Red Asian Shallot Butter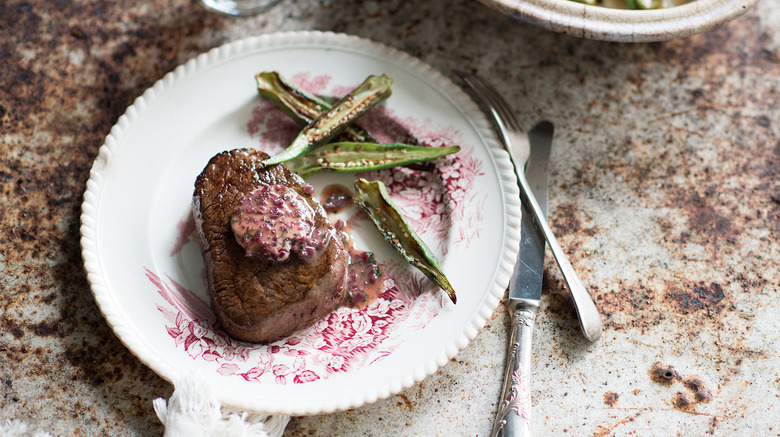 We may receive a commission on purchases made from links.
The dishes of France have influenced Vietnamese cuisine in a delicious way. Enter: Vietnamese-Australian chef and TV host Luke Nguyen, whose latest book explores the relationship between these two food cultures and documents the best of the best. Considering those parameters, a nice little steak with Asian shallot butter sounds just right.
Asian shallots are small reddish-purple onions that grow in bulbs and are sold in segments like large cloves of garlic. I find them a little sweeter than French shallots. They work really well as a sweet, buttery topping for a perfectly cooked pan-seared scotch fillet.
Scotch Fillet With Okra And Red Asian Shallot Butter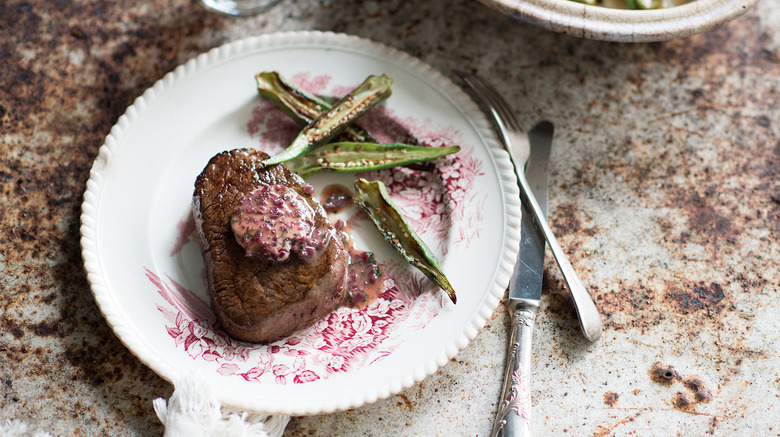 Ingredients
1/4 cup vegetable oil
4 9-ounce scotch fillet or rump steaks
3 tablespoons unsalted butter
12 fresh okra
4 red Asian shallots
1/2 cup Shiraz
1/2 cup unsalted butter
2 tablespoons finely chopped flat-leaf parsley
Directions
To prepare the Asian shallot butter, simmer the shallot and wine in a saucepan over medium heat for 4 minutes, or until the wine has reduced to 1 tablespoon. Transfer to a mixing bowl and set aside to cool. Once cooled, add the butter and mix well. Mix in the parsley and season with a generous pinch of freshly ground black pepper. Transfer the butter mixture to a piece of plastic wrap, then roll up in the plastic wrap, into a large sausage shape, about 16 cm (6¼ inches) long and 4 cm (1½ inches) wide. Refrigerate for at least 20 minutes, or until firm.
Heat half the vegetable oil in a large frying pan over high heat. Season the steaks well on both sides with sea salt and black pepper. When the oil is hot, reduce the heat to low and add half the butter. When the butter starts to foam, add the steaks and cook for 4 minutes on each side, or until medium-rare, basting with the browned butter as you cook.
Remove the steaks and allow to rest in a warm place for 5-10 minutes. Just before serving, sear the okra in a hot frying pan with the remaining oil and butter for 2-3 minutes. Divide the steaks among four plates. Cut the butter into slices about 1 cm (½ inch) thick, placing them on top of the steaks to melt slightly. Serve with the okra.